Here at Tsai CITY, we know that students often learn as much from each other as they do from us. Yale's student body, which collectively represents a wide range of perspectives, experiences, and academic interests, is one of the university's greatest resources. Tsai CITY's peer mentoring program is designed to draw on this community's insights, connecting students from around campus with teams working on projects at Tsai CITY.
Interested in being a peer mentor?
We don't expect student mentors to have decades of experience in any given field or topic. In fact, it's likely that most peer mentors are professionally only a couple of steps ahead of their mentees. We see that as a good thing; peer mentors can directly relate to mentees' challenges and offer advice in a low-stakes environment. We're looking for thoughtful, positive students who bring both specific expertise and a desire to tell their stories. Using the structure of targeted sessions, this volunteer opportunity allows you to make a tangible impact on teams' progress and boost your own experience, all within a relatively low time commitment.
Structure
Each peer mentor will be responsible for hosting two scheduled sessions over the course of the semester. Sessions will last between 60 and 90 minutes, depending on demand and interest from students, with roughly half of the time dedicated to presentation and the other half dedicated to personalized breakout sessions between mentors and mentees.
Peer mentors will have the freedom to choose the topic or theme of each session. In some cases, mentors will be encouraged to repeat the same theme for both sessions if demand is high and the first session fills up quickly.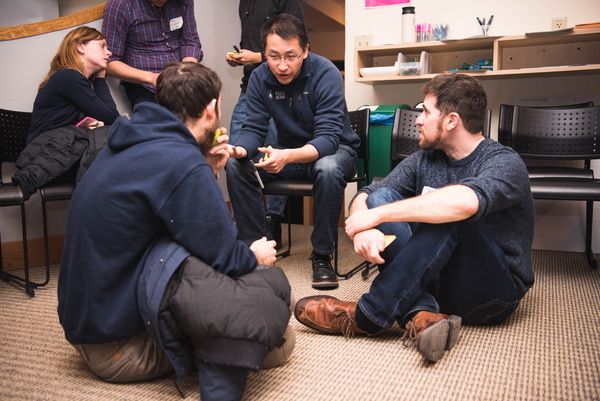 Session Topics
Topics will vary based on the backgrounds of the mentors. All mentors should have some professional experience, interest, or expertise in subjects relevant to Tsai CITY ventures. Based on current student demand, topics of particular interest include tech and digital platforms; health and mental wellness; food; education; consumer goods; the environment; and arts, media, and culture. We are also interested in mentors from any field who could share insights on key cross-sector skills, such as budgeting, marketing, professional interpersonal dynamics, and work/life balance.
Each session will follow a tools and tales format. Mentors will share specific processes, products, or platforms ("tools") that they have found to be useful, as well as stories about their own professional experiences and lessons learned ("tales").
Additional Mentoring Opportunities
Tsai CITY peer mentors will have the option to continue to engage with students beyond the scheduled meeting times. Some mentors may take an interest in a specific student venture project. If you wish to follow up with mentees to brainstorm or answer more questions, you are welcome to reach out to Tsai CITY to schedule more meetings. Any additional mentoring hours will be welcome, but not required or expected.
Feedback
Tsai CITY will send out feedback forms to mentors and mentees upon completion of mentor zoom sessions. Our goal is to continue to improve the student experience at Tsai CITY over time. We value honest feedback and criticism from our participants.
Schedule
Our goal is to fill approximately 10 sessions per semester. Sessions will be held on alternating Mondays and Wednesdays, with occasional Thursday sessions, beginning in early March. Exact times will be dependent on the availability of the mentor. Once the schedule is set, students will reserve their spots for the sessions most relevant to their venture.
Interested in being a peer mentor?
If you have questions or you're interested in serving as a peer mentor this semester, schedule a meeting for peer mentor onboarding with Ari Winer by March 15.