Rothberg Catalyzer Prize @ Yale
The Rothberg Catalyzer Prize awards $15,000 to the best student-led venture focused on developing an innovative hardware or AI solution to a medical challenge.
The competition provides participants with constructive feedback from experienced professionals, mentorship from relevant experts, and chances to meet venture capital investors and industry leaders. Rothberg Catalyzer winners also receive a cash prize of $15,000.
Timeline
February 1, 2021: Optional mentorship request form opens
February 21, 2021: Optional mentorship request form closes (mentors are assigned on a rolling basis)
February 22, 2021: Startup Yale application opens
March 21, 2021: Startup Yale application deadline
April 11, 2021 (approximately): Finalists selected
April 30 or May 1, 2021: Finalists participate in a live pitch event as part of Startup Yale.
Want to preview the application before diving in? Download a PDF version.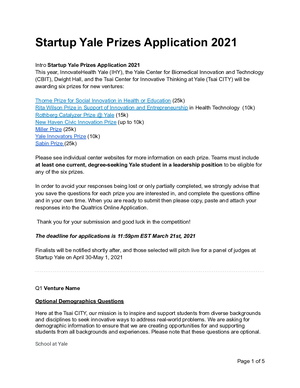 Questions about the Rothberg Catalyzer Prize?
For questions about the Rothberg Catalyzer Prize, contact Matt Gira (matthew.gira@yale.edu).
Startup Yale
The Rothberg Catalyzer Prize is part of Startup Yale, a collaboration between the Yale Center for Business and the Environment, InnovateHealth Yale, Dwight Hall, Yale School of Management Program on Entrepreneurship, and the Tsai Center for Innovative Thinking at Yale. On April 29-May 1, this event will virtually bring together Yale's entrepreneurs in three days packed with pitches, prizes, and world-changing ideas. Over $125k of prizes will be awarded to the finalists, including:
2020 Winner
CtrlTrial : Powered by AI and Natural Language Processing, CtrlTrial accelerates the patient screening process for clinical trials by automated scanning of clinical trial protocols, patient's electronic medical records, genomics data and real world data.
2020 Finalists
DM Health: DM Health is a searchable SaaS platform that aids the patient in the customer journey to find healthcare providers, selectively share health records, maintain treatment plans and compare prices.
KovaDx: KovaDx is making the diagnosis of blood cellular morphological diseases quick and affordable by combining 3D Phase Imaging with Deep Learning.
WISSP: The Widely-Integrated Social Services Platform (WISSP) is a social safety net for housing unstable Connecticut residents. Our platform networks tenants, landlords, and social services together to improve housing outcomes.