Entrepreneurial Yale Women Students Share Their Journeys
A recent panel discussion held as part of the Yale Women Innovators Series featured five women from across the undergraduate and professional schools sharing their experiences in entrepreneurship—Nya Holder (YC '17, MPH '18), Dianna Liu (SOM '18), Zoe Lloyd (SOM/FES '17), Alice Conant (MPH '18) and Arsema Thomas (MPH '18).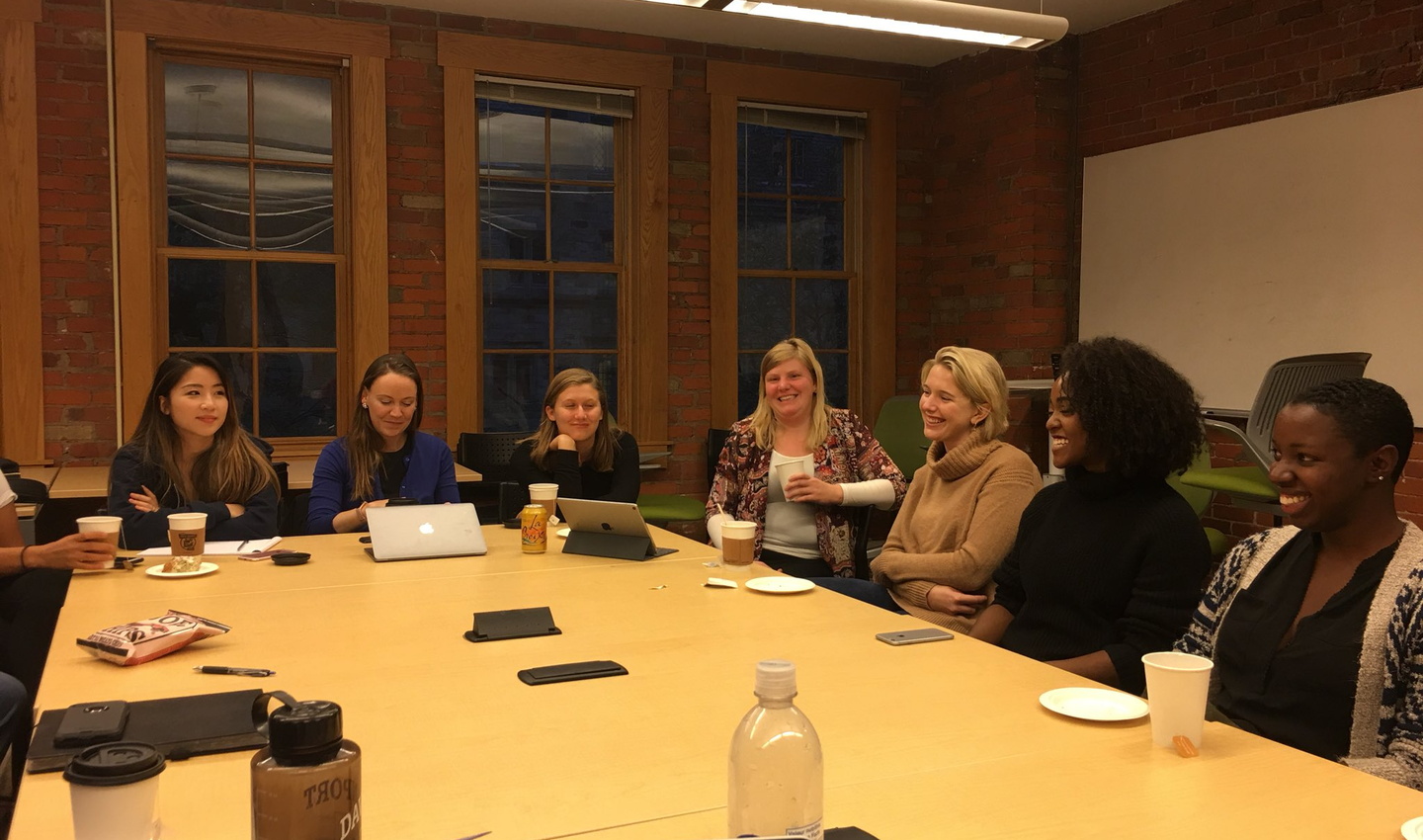 Between graduating from Yale College and attending the School of Public Health, Nya Holder worked on a project that brought mindfulness into the classrooms of New York public schools. Combining her passions for leadership and mental health, Holder founded a consultancy to "make people feel like their passion is possible, encourage them and provide them with the resources to make their interests and goals a reality." She offers professional coaching to social entrepreneurs, aiding them in strategizing for the future. "I feel honored to be a part of this panel because I did not consider myself to be an entrepreneur in the past, but you can build things in every aspect of your life," Holder said.
Dianna Liu, a former engineer at ExxonMobil, learned that, while safety was a large concern in this sector, there was insufficient technology to ensure that standards were being upheld. "I knew I couldn't do it alone and I'm fortunate to have met two fellow engineers to help me," said Liu, who enrolled in Yale School of Management with the aim of finding collaborators. Her startup, developed during a fellowship last year, is called Arix Technologies and won last year's $25,000 Miller Prize. "We're starting with oil and gas refineries where there is a real need and customers are willing to pay, but we are looking to expand into utilities and transportation," she added.
Zoe Lloyd, a student at the School of Forestry and Environmental Sciences, attended an entrepreneur speed-dating event at SOM where she pitched ideas and found her co-founder. After dabbling in innovation consulting, she was motivated to launch her own startup and she saw a gap in the market for frozen food. This was an area where there was a real need for innovation and improvement in terms of healthy ingredients and organic foods. Now, her frozen food product Zoni Foods is in 10 stores and Lloyd says she's learned a lot about food safety, regulations, manufacturing and her customers.
Alice Conant's entrepreneurial journey began in the first year of her undergraduate experience, when she was interested in the digitization of data regarding infectious diseases. After the 2010 Haiti earthquake, Alice contacted a professional as part of her research who was faced with a new challenge: how to ensure vaccinations were correctly transported to remote areas with underserved populations. She spent a summer piecing together the backend logistics of the innovation — plugging in vaccine refrigerators to cellphone towers. Conant contributed to a paper that detailed the idea. "It went viral and we were invited to telecom conferences full of industry professionals who were excited about the inexpensiveness and feasibility of the business idea," she said.
Arsema Thomas didn't know entrepreneurship would be the right fit for her until she came to Yale. Rather, she was "more interested in seeing how to better a situation." After growing up in Kenya, Togo and Uganda she'd been exposed to inequities that made her want to do something with a positive impact, but she wasn't sure what that might be. "Becoming a doctor felt too small-scale and micro. I wanted to make an impact," she said of her experience living and working at a refugee camp on the border of Sudan and Kenya. The Hult Prize at Yale was introduced to Thomas after she had expressed enthusiasm about tackling refugee issues. In a team, she strategized around the goal of impacting 20 million refugees by 2020. "Measuring the degree of impact is another thing," Thomas explained. "We had to answer questions like 'who did we want to help, how did we want to help them,' and so forth. How do you allow a refugee or internally displaced person create a financial history, to create wealth for themselves and earn money?" Her team's idea was called Mosaic, which became a networking platform for refugees to watch online modules provided by the UNHCR on marketable skills, apply for funding for business ventures and interact with one another. Thomas also collaborated with the microfinance company Kiva to learn more about their model of fundraising.
Navigating Team Dynamics
Many cofounders discussed the dynamic of team collaborations, and how to navigate situations in which certain cofounders care more about a venture than others. "This is where outsourcing expertise and knowledge or hiring specialists to support areas of a business come into play," said Lloyd. "Initially you think passion is enough to drive you to do it all yourself, but eventually you realize it can be up and down and you have to learn to manage it." Thomas echoed this, and said there needs to be clarity around roles and responsibilities.
Liu also stressed the importance of surrounding yourself with people who are smarter than you and inspire you as you are looking to both maintain control and move a startup forward. "To hand off responsibility is difficult but it is also the most rewarding thing ever," she said. Holder added that empowering each member to take on responsibilities, but also asking them what they want to get out of the experience, helps them feel a sense of purpose in the overall mission.
Conant says the team plays a critical role in any entrepreneurial endeavor. As she was responsible for the ground operations of her startup, she learned about relevant human and entrepreneurial dynamics in global health and had the chance to be a part of "incredible academic communities." She said it was a challenge being the only student in her founding team. "Even though my ideas were heard and recognized, creating the changes I wanted to see was something I couldn't do myself within the structure we had," she said. "It's important to think long term about what the team will look like, and reconcile three years out with what you want right now."
Conant examined the intersection between her practical experience working in global health and her Yale education. She believes that global health cannot be studied in the classroom where it is "tied up into pretty little modules, because nothing is ever that simple." However, after living in Zimbabwe and working in India, Conant believed she had more to learn in a structured academic sense. "I came to Yale because I knew there were more skills that I could hone to be a better member of the global health community. Policy is so transformative to global health, and it was an area I knew nothing about. I felt that was a huge weakness for me," she said. "I will always go where I know the least: which is where I will grow the most."
Veena McCoole is the YaleWomen Innovation Fellow at Tsai CITY.