Introducing CITY's Fall 2018 Accelerator Cohort
14 student teams have been selected to develop their ideas as part of CITY's fall 2018 Accelerator cohort. The Accelerator, which runs every fall and spring semester, guides student innovators through the process of building effective organizations, projects, and ventures.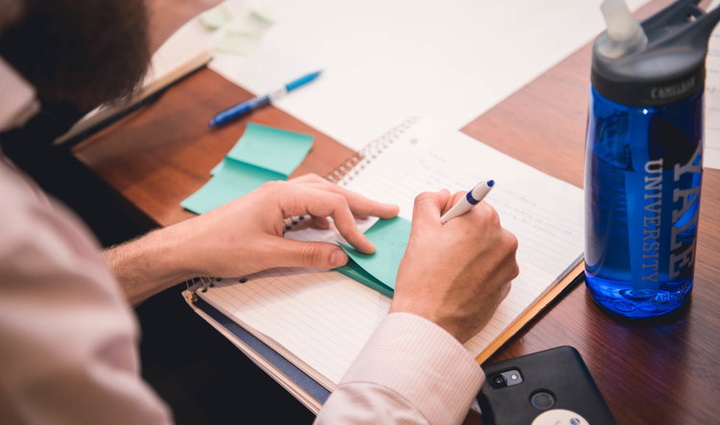 The program is open to teams with a broad range of ideas, from for-profit businesses to community programs, and the fall cohort reflects this mix: students will be working on everything from smart consumer products to educational platforms. Over the course of the semester, these teams — each of which will receive $1000 in non-dilutive seed funding from CITY — will take part in workshops on key topics like user discovery and prototyping, connect with mentors in CITY's community, and work to turn their ideas into reality. Meet the teams:
Representation 2.02
Helen Knight, Ben Glassman
This leadership incubator will develop diverse college students' passions, abilities, and connections to encourage them to run for representative office in the U.S. government.
Briomics
Benjamin Akhuetie-Oni, Daniel Moonan, Paul Muir, Shun Hang Chan
Briomics aims to be the 23andMe for gardeners and farmers: a simple DNA sequencing kit that provides tailored insights on the plant microbiome.
Droplet
Michelle Tong, Sinem Sinmaz, Ting Gao
This team is building a water faucet attachment that calculates how much water a user consumes and wastes — and makes that data accessible, so that over time people are encouraged to use less water.
Greater Good Solar
Hannah Beinecke, Evan Beinecke
Greater Good Solar finances solar installations for low-income communities and sends a portion of the profits to education and green jobs training in those communities.
LitKit
Anusha Manglik, Lukas Corey, Chunyang Ding, Daniel Bacheschi
LitKit will transform how high school students learn biology by giving them access to the low-cost fluorescence microscope technology that real scientists use to bring the machines inside of our cells to life.
Next-Generation Genetic Stents
Maen Abou Ziki, Jaymin Patel, Grace Gui
This team envisions CRISPR coating stents that would use lipid nanoparticles to shut off genes involved in the deleterious remodeling process that leads to stent restenosis and stent failure.
Pequi
Marina de Melo Sa Roriz, Apoorv Chaturvedi
This team is creating an e-commerce platform that enables people to share their things, creating virtual closets.
ReRent
Alikiah Barclay
ReRent will be an Airbnb management service enabling students (and, one day, all travelers) to use Airbnb to monetize their apartment space while they're away, without any of the hassle normally involved. ReRent provides a start-to-finish, professional service allowing everyone to host effortlessly and profitably just by signing up.
Sciteens
This team has created a free, online collaborative platform for teen scientists to connect with peers, mentors, and funding.
Soil Samplers
Natalie Irwin, Seila De Leon, Ekaterina Danchenko
The Soil Samplers team has developed effective, portable, and affordable soil sample extraction and drying devices. They now aim to manufacture these two devices as a field-ready kit for soil carbon content analysis.
The Brio Fund
Daisy Rosales, Aaron Rosales
The Brio Fund will be a nonprofit organization that funds, develops, and consults with mental health entrepreneurs in vulnerable communities who have a vision to respond to specific mental health needs in their countries.
The Orb
Lance Chantiles-Wertz, Isaac Shelanski
This modular IoT device enhances and personalizes a visitor's experience with a space, without the need for a smartphone app.
Unbillable Technologies
Stuart Shirrell, Vinay Nayak
This team aims to create a web-based, integrated legal research and drafting environment that incorporates several AI-powered features, including a tool that checks for related cases, a document analyzer that detects possible errors, and a legal assistant that answers natural language questions.
We Develop
Ana Diaz Benitez
We Develop will be a platform through which people can invest in real estate development projects in medium-sized cities in Mexico, motivated by the potential for high returns on their investment. This company will analyze potential projects of third-party developers and select the most feasible, then track them until completion to protect investor interests.