Students Create Climate Change Experiences at Mixed Reality Hackathon
On a recent Saturday afternoon, students and practitioners from diverse fields could be found in every corner of Yale's Center for Collaborative Arts & Media (CCAM), filling studios and workspaces with computers, headsets, and plenty of snacks as they brainstormed together.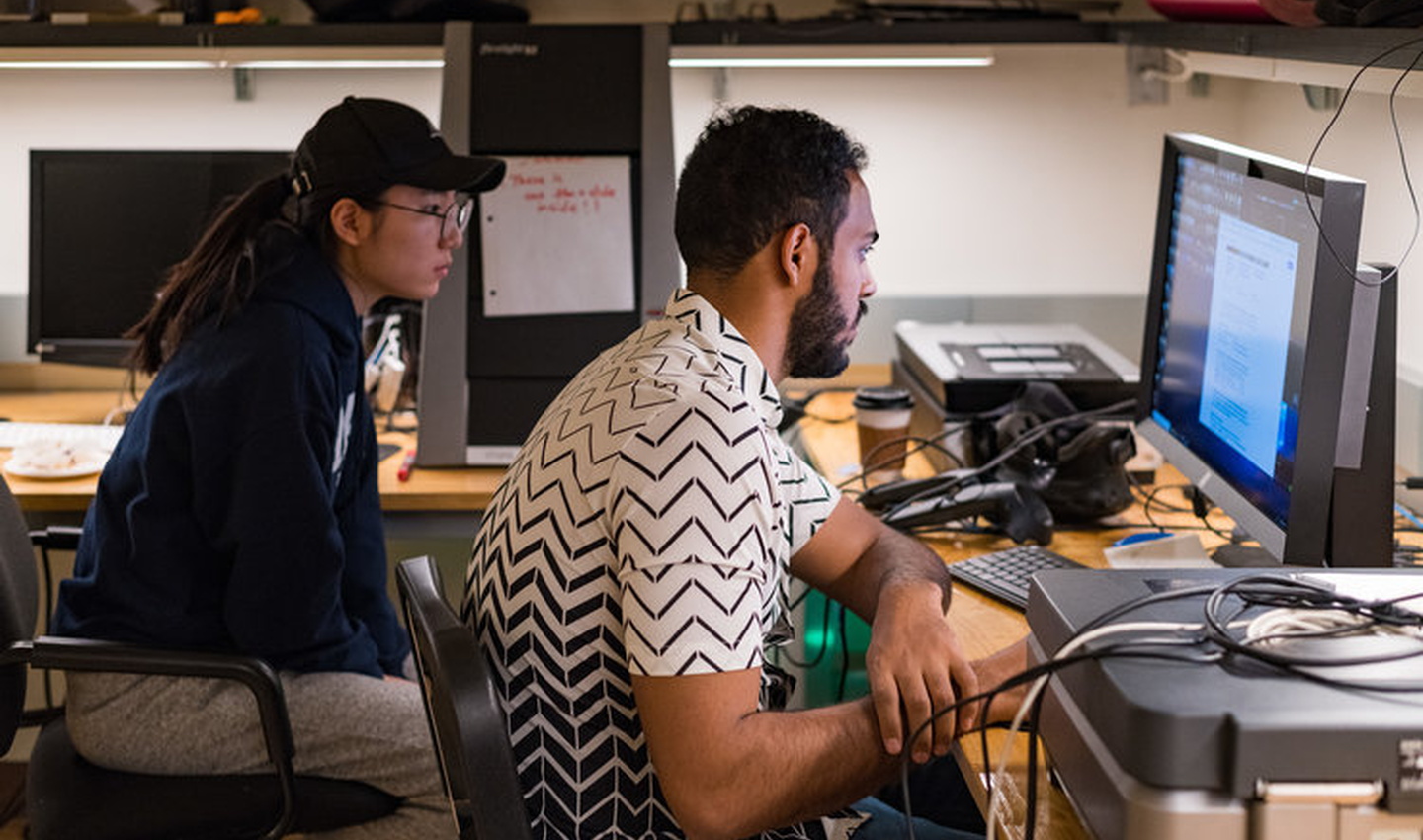 This group of roughly 50 participants had gathered for the Reality of Global Climate Change Mixed Reality Hackathon, a two-day event that challenged interdisciplinary teams to bring together two elements — datasets on climate change's impacts and access to augmented and virtual reality technologies (collectively referred to as mixed reality). The goal? To conceptualize and prototype mixed reality experiences that effectively communicated climate change data.
Over the course of February 8 and 9, the teams took up the challenge, exploring CCAM's digital workstations and tools for motion capture, audio recording, and other resources. Mentors with expertise in mixed reality and in climate change, including both Yale staff and faculty and professionals from sponsoring organizations, supported teams as they worked. As the sun set on Saturday evening, the teams gathered for final presentations, sharing what they had created during the hackathon's short duration. Winning projects were selected in three areas, with one overall winner.
The prize-winning projects were:
Hotline
Robert Gerdisch, Jack Wesson, Winter Willoughby
Prize:  Overall winner and Best Creation of an Empathetic Experience
Participants in this experience aim to stop the spread of wildfires.  The experience includes audio from actual wildfire-related 911 calls, and the number of fires that occur in the experience is based on actual wildfire statistics. The experience takes place over several years, in which the number of fires increases as weather patterns have shifted. 
City of Trees
Chris Blake, Andrew Fulop, Yujun Pan, Dev Soni, Jarrod Osofs, Kene Umelo
Prize:  Best Illustration of Impact on the Built Environment
In this game, players plant trees to reduce CO2.  Presented with a city environment with gradually worsening climate factors, the player collects seeds and plants them.  As the tree coverage grows, the climate factors improve.
Feed Stampede
Jonathan Koss, Phoebe Mankiewicz, Mandi Pretorius, Yihana von Ritter, Noah Shapiro, Diego Ellis Soto
Prize:  Best Use of Facts and Figures
How does food choice impact climate change? In this experience, the participant selects a meal choice and takes it to their table.  Outside the window they see a verdant landscape, which changes based on their food selection.  A narrator spells out the statistical impacts of their meal while the landscape changes.
Other teams participating in the hackathon included:
Global Choices
TC Chakraborty, Britta Dorsen, Andrew Feierman, Nadia Irwanto, David Paolella, Zhi Yi Yeo
Participants in this experience aim to save a city from being submerged.  
Carbon Capture
Ammar Al-zouabi, Zhinan Chen, Jinny Choi, Ariana Parenti, Xinran Wang
In this game, a player flies around capturing CO2.
Planetary Metabolisms: Photosynthesis & Combustion 
Phyllis Mugazda, Martin E. Wainstein, Tianshu Zhao
This experience focuses on photosynthesis and combustion.
Beyond supporting collaboration among participants, the hackathon itself was a partnership between centers and programs across campus: the Yale Center for Business and the Environment, Yale Center for Collaborative Arts and Media, Yale Program on Climate Change Communication, Center for Ecosystems in Architecture at Yale, Data-Driven Yale, Information Technology Services, and Tsai Center for Innovative Thinking at Yale. The hackathon was also sponsored by Connection.com, HP, ESRI, Magic Leap, The Nature Conservancy Connecticut, and SphereGen.
Based on reporting and writing by Randall Rode. All photos by Justin Berry.