Introducing the 2019 Neighbors in Residence
Developed by Dwight Hall at Yale | Center for Public Service and Social Justice and Tsai CITY, the Neighbor in Residence (NiR) program is a paid, semester-long fellowship for New Haven community leaders, changemakers, and leaders with lived experience to engage, grow, share knowledge, and expand networks within the Yale community.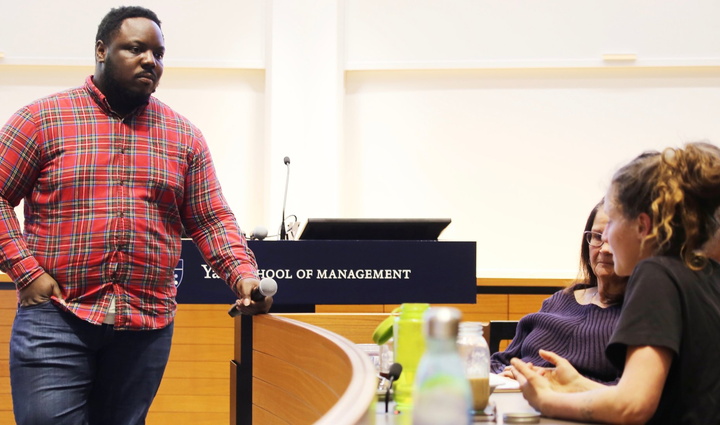 Over the course of the spring semester, the NiRs are part of Dwight Hall's Social Innovation Lab, mentor students through office hours, and work on projects in their communities in collaboration with Yale staff and students. This semester, the NiRs will also help co-lead Tsai CITY's Knowledge Equity Intensive, a five-session program designed by the Knowledge Equity Initiative in which students from across Yale's campus explore their leadership and innovation capacity and how to build equitable collaborations and partnerships for positive change in the world. The NiRs are an inspiring and dynamic cohort of New Haven residents full of purpose, energy and talent. Meet this year's Neighbors in Residence.
Selected fellows will work alongside Dwight Hall at Yale and Tsai CITY to advance social justice and service in New Haven. During the program, fellows will focus on their own unique project and provide mentorship to students launching social justice initiatives. By the program's end, NiR's will have a clear path to continuing their impactful community work and be better connected into the Yale community. Through the program, fellows will gain access to a variety of Yale resources to catalyze their work in the community while uplifting the structures, histories, institutions, and traditions that make up New Haven.
2019 Neighbor in Residence Participants 
Susan C. Harris
Susan Harris is an advocate for food insecurity in New Haven.  She attended Hamden High School, graduating in 1976. Susan began her food insecurity work early; assisting her mother with the Thanksgiving Basket program at St. Luke's Church.  Later she became a volunteer with St. Luke's Services and served her last two years there as co-president.
Susan is a member of Witnesses to Hunger - New Haven: folks on the front lines of food insecurity who want to make a difference.  She is also a member of the New Haven Food Policy Council and the Food Access Working Group. Susan also served on the selection committee for the Hunger & Homelessness Auction at Yale Medical School in 2018; currently she is a member of the REACH Steering Committee.  Susan has lived in New Haven for over 25 years.
Donald McAulay, Jr.
Donald McAulay, Jr. is a Ph.D. student at UConn's Neag School of Education – Learning, Leadership, and Educational Policy (LLEP) program. Before joining the doctoral program, Donald worked as a Youth Development Coordinator for the New Haven Public School system while also serving at a Youth Commissioner for the City of New Haven. Still serving as a New Haven Youth Commissioner, Donald focuses his research on African American Male Achievement Models and non-exploitative Youth Sport Development. His work is centered on the intersectionality of race, academic achievement, identity construction, youth empowerment, and career/college readiness. Donald holds a Bachelor of Arts in Africana Studies from College of William & Mary and a Master's in Sport Management from Troy University. Currently, he occupies the academic role at UConn as a Graduate Professor and Graduate Assistant in the Academic Achievement Center.
Virginia T. Spell
Virginia Spell is currently the Vice President, Director - New Haven Program & Services for the Urban League of Southern Connecticut. With more than twenty-five years of nonprofit management, Mrs. Spell is passionate about creating stronger communities through training, education and developing community leaders.
Since attending Southern Connecticut State University, Mrs. Spell has focused on economic empowerment activities for individuals and families in living in Fairfield and New Haven counties. Mrs. Spell is a graduate of the Graustein Community Leadership Program, the Community Foundation of Greater New Haven Leadership Training, and the Greater New Haven Chamber of Commerce Executive Leadership Training.
Mrs. Spell's commitment to community service is extensive, she currently serves as President of the West River Neighborhood Services Corporation; Chairs the West River Neighborhood Revitalization Zone, and is the Vice Chair of the Board of Directors for Continuum of Care. She also serves as the Chairperson for the United Nations International Day of Peace at the West River; and serves as a stakeholder in the Route 34 Corridor Redevelopment Project. Mrs. Spell is also an active member of the West River Community Resilience Team.
2018 Neighbor in Residence Participants 
Kimberly Hart
Kimberly Hart has worked on organizing New Haven residents who are living in poverty and their allies to create public awareness of the need for affordable housing, including launching a media campaign to allow residents to share stories and solutions with community leaders, elected officials, and landlords.
Paul Bryant Hudson
Paul Bryant Hudson started New Haven's chapter of Sofar Sounds, a global community for artists and audiences to come together in unique and welcoming spaces — with an added element of surprise — to share, discover, create and, hopefully, make a friend or find their new favorite band along the way.
Beatrice Codianni
Beatrice Codianni founded SWAN, a grassroots organization working to end violence against sex workers. Their work is rooted in harm reduction, prison abolition, and dignity for all. Their mission is devoted to the protection of the rights of sex workers in New Haven and to the delivery of services to such persons.
Read more about the 2018 program here.