Opening New Conversations on Food at the Yale Landscape Lab
If you're not looking for it, it's easy to miss the Yale Landscape Lab. Even when you are looking for it, it can be hard to spot. Tucked away on a wooded plot on West Campus, the serene beauty of the Landscape Lab is a far cry, and a shuttle ride away, from the gothic architecture and busy streets of Yale's downtown campus.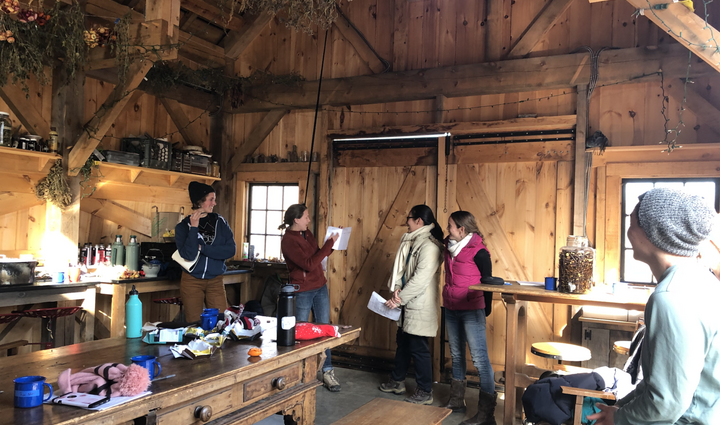 The space—which includes a farm, medicinal plant garden, beehives, agroforestry area, experimental grasslands, outdoor kitchen setup, and is spotted throughout with student projects —is well worth the short trip.  
On the afternoon of March 1, a group of around ten gathered in the Landscape Lab's barn to hear Bentley Lim, a biochemist and microbiologist, talk about fermentation. Lim studies microbial interactions within human intestines in Andrew Goodman's lab, but even when he's not working, he spends quality time with microbes, experimenting with home brews and scavenged yeasts. He had brought some of his pungent experiments with him to share as the guest speaker at the March meeting of the Landscape Lab's "monthly(ish)" event, Beyond Food.
Open to all, Beyond Food aims to facilitate conversations about food systems and food justice while building community. Justin Freiberg, Founder and Director of the Landscape Lab, says of the event, "It's a series of talks/workshops/gatherings that have evolved almost like an informal recipe. We had a few initial gatherings like this that came together organically and worked." The ultimate goal of the event, he notes, is "to facilitate conversations about all of the swirling issues around food that wouldn't normally be had and to do so in an environment that is welcoming, warm, and leaves room for lots of hard questions to be asked."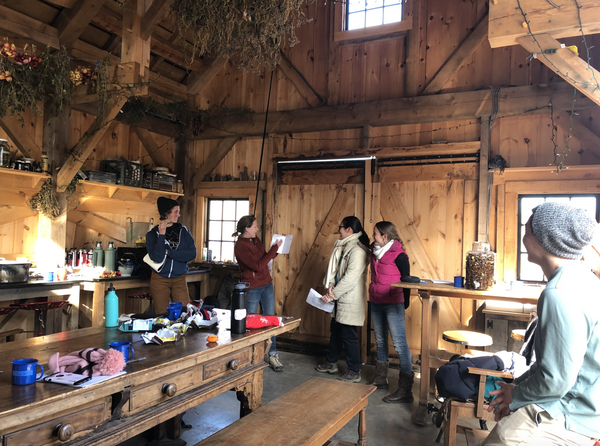 Beyond Food is not the only event at the Landscape Lab that works toward this goal. On March 30, the Lab hosted a one-day Intensive on Ethnobotany and Traditional Foods, in collaboration with Tsai CITY, the Yale Sustainable Food Program, and the Yale Center for the Study of Race, Indigeneity, and Transnational Migration. The day started at 6 a.m. with an opening ceremony led by Kapi'olani Laronal, the Assistant Director of Yale's Native American Cultural Center, then continued with discussions of models for the commercialization of traditional foods and medicines. "It was essentially about how to not create problems, and acknowledging that taking traditional foods and making them commodities can be problematic," one student reflected. The morning also included harvesting birch for birch tea and a talk on Ayurveda, a system of traditional medicine, from co-leader Allegra Wiprud, MEM '20. To set up the afternoon's activity, the group also split into three teams, which, by early evening, would become versions of companies that they could practice pitching. The teams each had a different focus and business type. The Herbal Medicines team was tasked with developing a packaged good, while the Fermentation team needed to pitch a restaurant chain. Team Grains innovated in the business-to-business field.
Before the teams polished and presented their ideas, they got helpful advice (and delicious snacks) from Jeff Abella, who is co-founder and CEO of Moka Origins as well as Director of Humanitarian Projects and Cameroon Country Director at the Himalayan Institute. Jeff founded Moka Origins, a coffee roastery and "bean-to-bar" chocolate factory, in Pennsylvania in 2017. Jeff lives in the northwest region of Cameroon with his wife and two kids. There, he and Moka have a 12-acre farm where they grow cocoa intercropped with bananas and plantains, tropical fruits, and traditional medicinal crops. They also operate a co-op with a network of outgrowers. For Moka, it is important that they not only have a local farm but also invest in local manufacturing and value addition within the country of origin. Once they established their bean-to-bar, in-country practices, Moka could set up trade relationships. "Transactional large contracts were not a feasible way for Moka to grow," said Jeff: the company was too committed to its values. Instead of using a large distributor, Moka sells direct to consumer, direct to stores, or by subscription. Moka's relationships are built on the idea that farmers should share a stake in the outcome by sharing the income, so Moka pays farmers a fair-trade price plus incentive for quality.  "We want to reciprocate wealth back to the country of origin," Jeff explained.
Moka's commitment to quality in relationships and in product is evident in their hand-wrapped bars. As he distributed bars for sampling, the sounds of breaking chocolate filled the barn. "Good snap!" he'd exclaim, delighted by each bar's successful tempering. Jeff brought cocoa beans and chocolate, and the group sampled both with enthusiasm as Jeff reminded the group that chocolate should not be just a guilty pleasure, or a treat, but is in fact food—packed with beneficial polyphenols and antioxidant properties.
Chocolate, like beer, miso, and kombucha, is a fermented food, as the beans need to be fermented to preserve and develop flavor. Though Bentley didn't bring chocolate to the Beyond Food event, he did bring some fermented treats to share. He had found yeasts and microbes in the Landscape Lab that he cultured in agar-filled petri dishes or used to brew beer. The Beyond Food group didn't get a chance to taste his experiments, instead sipping unfiltered Belgian beer before gathering around the fire to eat miso mushroom soup. Many of the participants were visiting the Landscape Lab for the first time, but Thembi Butelezi, a fellow at the Landscape Lab, assured them that they had open invitations.
Summarizing the Landscape Lab's programming for the year, Justin says, "Welcoming a diversity of cultural backgrounds and opinions to the conversation around innovations in food might be the unifying theme." As winter began to turn into spring, he was looking ahead to a series of design/build workshops, noting, "The outcome of the design/build workshops will be an outdoor cooking setup ready to accept and celebrate culinary traditions from across the world, and a surrounding area ready to create space for the needed conversations around these topics." Beyond Food and the Ethnobotany and Traditional Foods Intensives both stimulated these conversations, giving students and community members the opportunity to engage with experts in the field and each other over hearty meals. The team at the Landscape Lab has cultivated a collaborative environment ripe for community gathering, noshing, and problem solving — ensuring that their mission goes well beyond food.