Introducing the 2019 CITY Summer Fellowship Cohort
This summer, ten student teams will spend eight weeks at Tsai CITY as part of CITY's Summer Fellowship, an intensive accelerator to incubate new companies, nonprofits, and initiatives.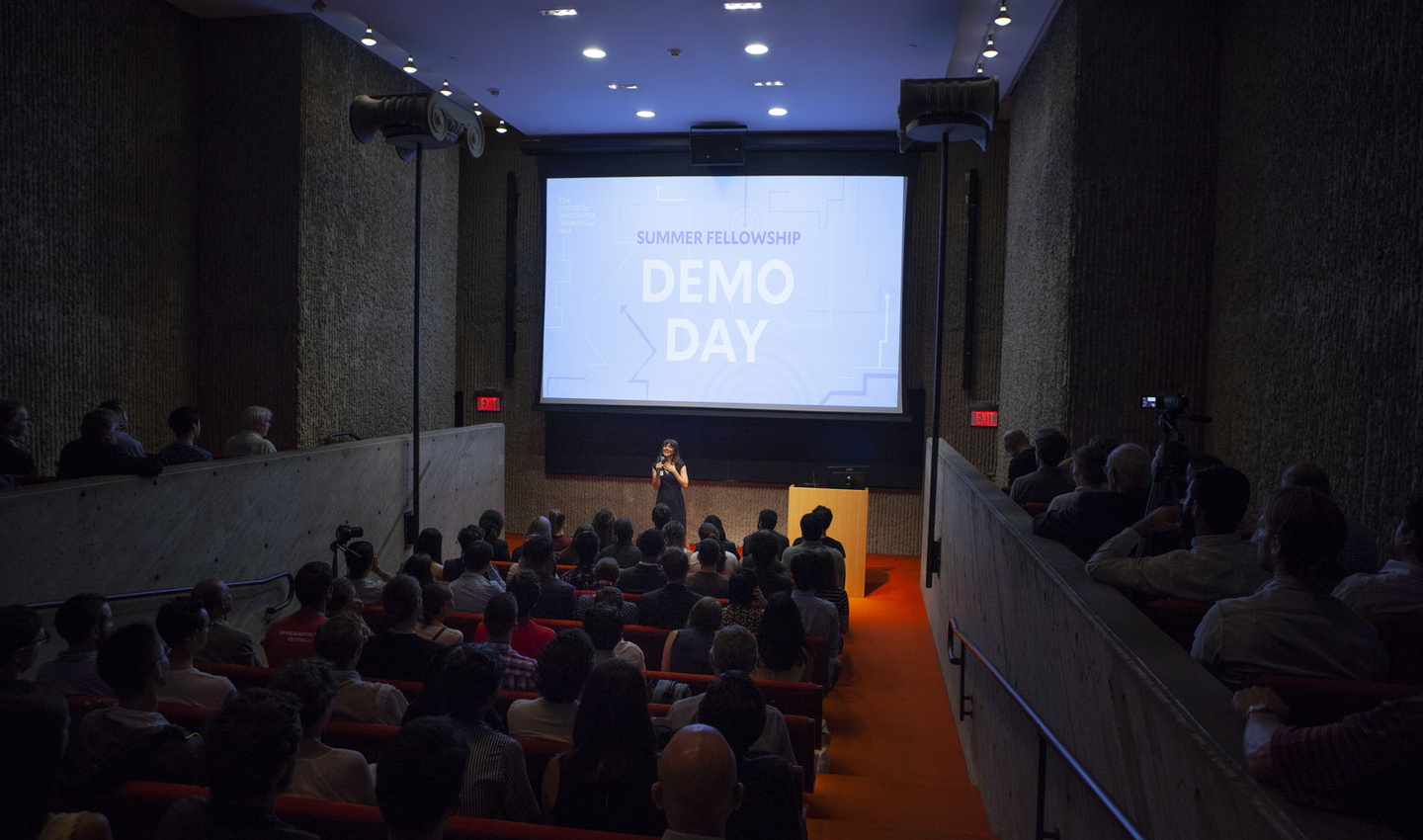 To help push their ideas to the next level, each team will receive $15,000 in grant funding and will take part in a rigorous sequence of workshops, sprints, mentorship, coaching, and pitch opportunities.
The 2019 cohort, which was selected in a highly competitive process, reflects a wide range of ideas and ventures. Students come to the fellowship from diverse fields within Yale College as well as from Yale's Schools of Art, Forestry & Environmental Studies, Management, Medicine, Public Health, and Graduate School of Arts & Sciences. As they develop their projects, these students will have a unique opportunity to learn from each other, working within an interdisciplinary, collaborative community of innovators. Despite the cohort's diverse lineup of projects, shared goals will open opportunities for new conversations. "A major theme we are seeing from this cohort is trying to help people make more meaningful connections," notes CITY managing director Kassie Tucker, "whether it's helping doctors have important conversations with patients or connecting tourists with locals."
As students build new connections, they will use the summer's focused time to refine and scale their work, honing in on key innovation skills in the process. Reflecting on the cohort's ideas for tackling real-world problems, Tucker says, "From modernizing immunotherapy and vaccination to connecting emergency responders with schools to save seconds and lives, I'm excited to see what type of impact these students will have on the world."
Meet the teams:
Backpaqr
Jonas Kavaliauskas, Julius Nedzinskas
Backpaqr is connecting young travelers with locals who offer authentic adventures in cities they visit, as well as offering fully planned alternative trips.
Brazen Eats
Sarah Mandlebaum, Georgia Sills
Brazen Eats makes the tastiest dumplings that you feel good about eating. Our mission is to help meat eaters reduce their meat consumption by providing tasty, convenient and affordable plant-based eats. We're making prepared foods with ingredients like Beyond Meat that you can find in the freezer section.
Dream Kit
Marina Marmolejo
DreamKit is an app that engages an entire city in ending youth homelessness by providing youth with financial compensation, professional connections, and individualized mentorship.
Edsightful
Chris Cutrona
EdSightful is an education technology solution that helps schools and districts more effectively manage their instructional coaching, teacher observation, and teacher evaluation programs. The tools allow users to conveniently collect data and visualize it in an easy-to-use dashboard, so that they can make more informed decisions about supporting teachers.
Hand Me Up
Melissa Mazzeo
Hand Me Up is a children's secondhand marketplace that scales informal exchange networks like hand-me-downs, encouraging a circular economic model.
Noir Fest
Melinda Egharevba, Lolade Siyonbola
NOIR FEST is a traveling film festival increasing access to visionary, world-class African Diaspora film and media for audiences around the world.
Pillnotes
Jason Lu, Shawn Ong
Pillnotes is a software application that has all the information a doctor needs to discuss medication choices visually and side-by-side with patients.
PREPARED
Michael Chime, Dylan Gleicher, Daniel James, Neal Soni
PREPARED is a one-touch mobile alert system that allows schools' emergency response to be instantaneous and decentralized, while also streamlining the process of contacting authorities.
Statera Therapeutics
Sean Bickerton, Jennifer Fischer, Philip Kong, Owen Yang
Statera Therapeutics aims to modernize immunotherapy and vaccination with Spatiotemporally Tuned Particles to maximize drug delivery efficacy.
Typogram
Hua Shu
Typogram is a custom brand builder for entrepreneurs and small business owners.
Want to learn more about these teams? We'll be covering them as they get started this summer — look out for more stories and perspectives from the Summer Fellowship cohort.