Meet the 2019 Startup Yale Prize Winners
Four student teams took home 2019's Startup Yale prizes on April 5, in the culmination of a three-day event celebrating entrepreneurship and innovation at Yale.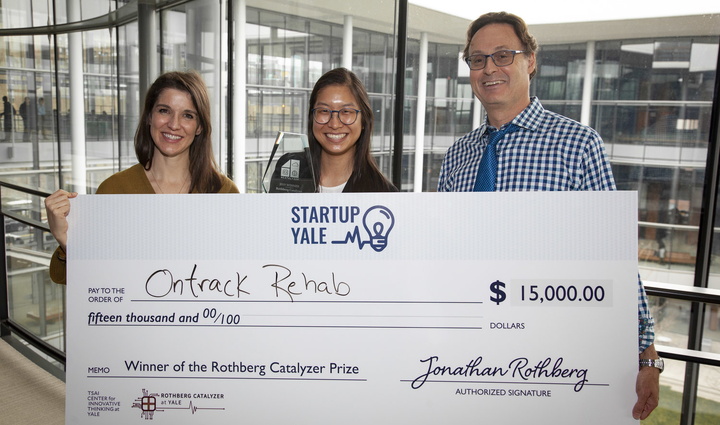 Beyond these prizes, other teams received awards from audience and student group votes, all part of a high-energy day of live pitches and community conversation. Reflecting Yale's diverse innovation ecosystem, the winning teams collectively include students from across the campus, from the School of Art to the School of Medicine, and are creating impact in healthcare, sustainability, and more.
Sabin Sustainable Venture Prize 
Through a $25,000 cash prize, the Yale Center for Business and the Environment's Sabin Sustainable Venture Prize supports Yale's most innovative ideas for businesses that advance a more sustainable way of life.
Winner: Green Gear Supply Company
Russell Heller (Yale College), Monika Dharia, Alan Yu
Green Gear Supply Company has designed a business around the pressing environmental issues of plastic and carbon dioxide pollution. To fight plastic pollution and reduce carbon emissions, they engineered a sugar-based poncho with a carbon-negative lifecycle to serve as an initial product in their effort to create a portfolio of bioplastic or plastic-alternative products.
Audience Choice: Hand Me
Jatin Batra (Yale School of Management), Cyndi Chen (Yale School of Management), Melissa Mazzeo (Yale School of Forestry & Environmental Studies / Yale School of Management)
In addition to this audience choice prize, Hand Me Up also took home the MIINT Prize, a $2000 award for the "most investable" venture selected by Yale's chapter of MBA Impact Investing Network and Training (MIINT).
Thorn Prize for Social Innovation in Health or Education
Managed by InnovateHealth Yale, the Thorne Prize for Social Innovation in Health or Education is a $25,000 cash prize awarded to the best student-led venture focused on social innovation in health or education.
Winner: Edsightful
Chris Cutrona (Yale School of Management)
EdSightful is an education technology solution that helps schools and districts more effectively manage their instructional coaching, teacher observation, and teacher evaluation programs. The tools allow users to conveniently collect data and visualize these data in an easy-to-use dashboard so that they can make more informed decisions about supporting teachers.
Audience Choice: Edsightful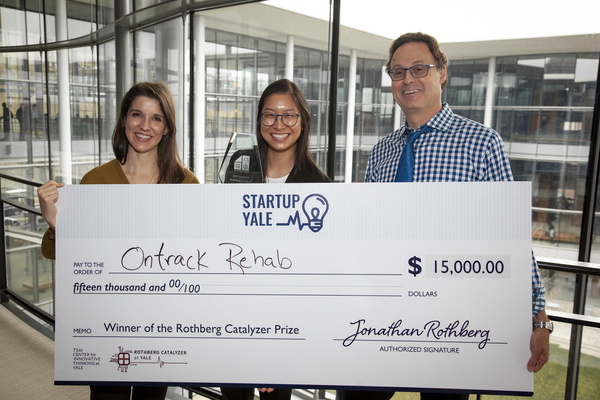 Rothberg Catalyzer Prize @Yale
Managed by Tsai CITY in collaboration with the Yale Center for Biomedical Innovation and Technology, the Rothberg Catalyzer Prize @ Yale is a $15,000 cash prize given to the best student-led venture or project focused on developing an innovative hardware and/or AI solution to a medical challenge.
Winner: Ontrack Rehab
Brian Beitler (Yale School of Medicine), Mrinal Kumar (Yale College alum), Pong Trairatvorakul (Yale College alum), Holly Zhou (Yale College alum)
OnTrack will help doctors better diagnose and rehabilitate patients with concussions. It has three components: a virtual reality headset with eye tracking and motion detection; a physical balance board with adjustable stability, which tracks center of gravity; and a cloud platform that collects and synthesizes the data.
Audience Choice: Hypnos Technologies
Vivek A Rajarathnam (Yale School of Public Health), Jason Lu (Yale College), Hans Bartenstein, Lewis Jones, Ajintha Pathmanathan
Miller Prize
Tsai CITY's Miller Prize supports students working on innovative tech or tech-enabled solutions through a $25,000 cash prize.
Winner: Prepared
Michael Chime (Ya
le College), Dylan Gleicher (Yale College), Daniel James (Yale College), Neal Soni (Yale College)
PREPARED is a one-touch mobile alert system that is placed in the hands of trusted faculty at schools. PREPARED allows the school's emergency response to be instantaneous and decentralized, while also streamlining the process of contacting authorities. In an emergency situation, seconds are lives, and clear, dynamic communication is vital.
Audience Choice: Typogram
Hua Shu (Yale School of Art)
Learn more about Startup Yale, and all of this year's prize finalists, here.