Stay Connected with our Spring Accelerator Cohort
Tsai CITY's spring Accelerator — a semester-long program that helps student teams develop ventures, nonprofits, and projects — wrapped up last week, as the cohort gathered for a final session focused on considering their priorities and mapping out next steps. Like most of their meetings this spring, this session took place virtually, the culmination of a semester that saw students rapidly transition to working from their homes, meeting with mentors and collaborators via Zoom, and even taking part in an Instagram pitch-off in lieu of the program's traditional live event.
We talked to the teams about the motivations behind their projects, and how you can stay connected as they continue to build on their ideas.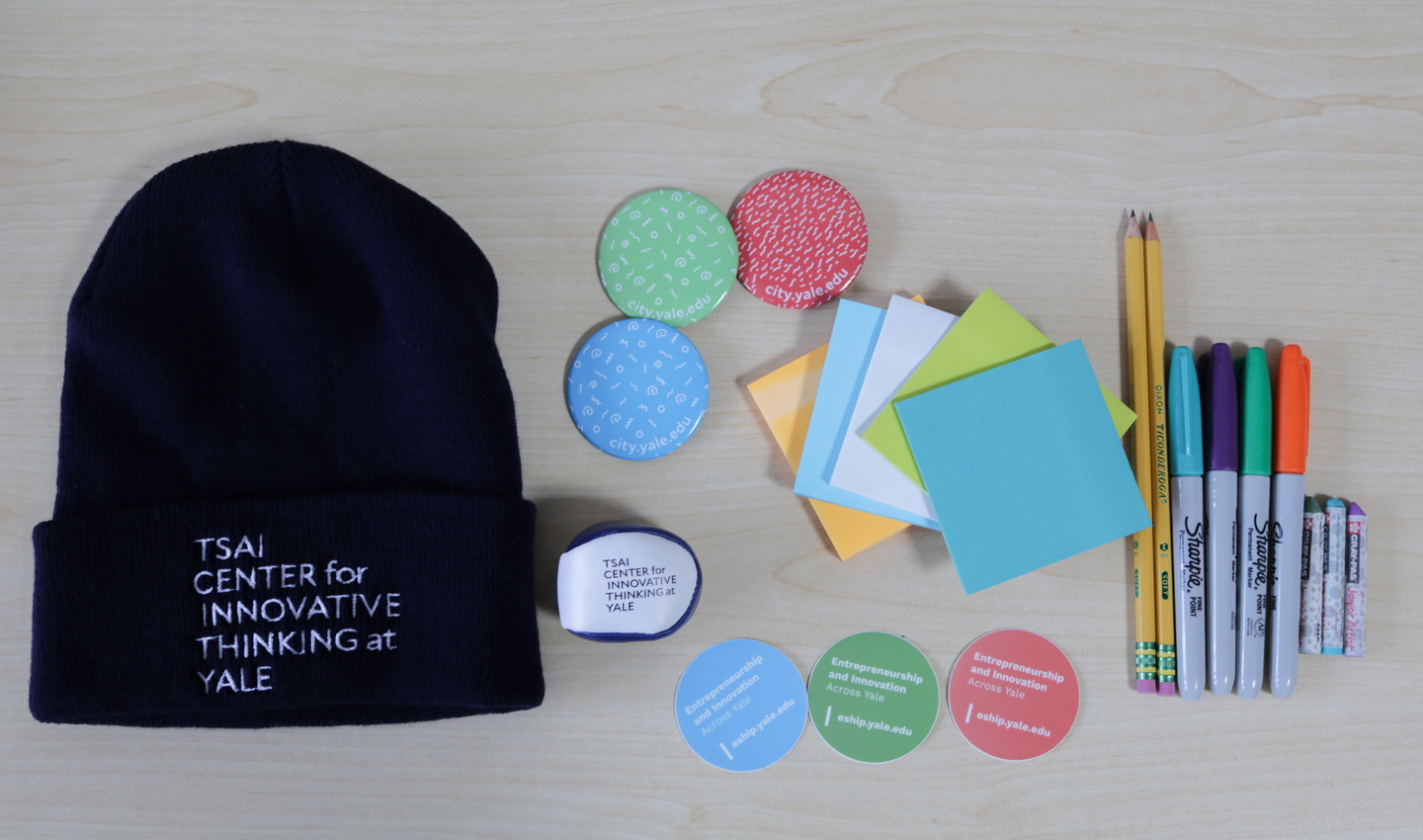 We talked to the teams about the motivations behind their projects, and how you can stay connected as they continue to build on their ideas. Several teams hope to build sustainable systems, working in areas from housing and finance to the global food supply chain.
Abode Co
Nicole Ratajczak (School of Architecture), Sean Yang (School of Architecture)
What they're working on: This team is creating a turnkey sustainable solution to provide Toronto homeowners with a custom backyard home.
Why they're working on it: "We got our idea from a Toronto zoning amendment passed in 2018 allowing laneway houses to be built in Toronto. We thought this would encourage a lot of property owners to build one for themselves; however, in our research, we came across many pain points. We set out to learn more about the process to see if we could make laneway houses a more attractive and accessible project for Torontonians. Toronto, like many other major cities, is in the midst of a housing crisis. We see a shortage of rental units and skyrocketing real estate prices. Laneway houses are an attractive way to provide the city with a much needed supply of rental units and make urban living more affordable."
How to stay connected: Find them on Instagram at @abodco.to.
Agrivengers
Beamlak Ashenafi (Yale College), Daniel Lin (YC)
What: With nanotechnology, Agrivengers aims to build a global network of healthy food supplies that satisfies the unmet needs of people's health and environmental well-being.
Why: "The idea was originally just an experiment from a science fair project on nanotechnology in high school, experimenting on optimizing agricultural practices. Later, in college, the availability of resources to develop this technology that will help alleviate increasing food shortage problems led us to build on the idea and bring it to the real world. We wanted to create a global chain of healthy food supplies that meet everyone's needs for a healthy life. We intend to use nanotechnology to increase crop yield while introducing sustainable practices to better the environment."
Stay connected: Find them on Instagram at @agrivengers_nano.
Elēkrŏn Sustainability Ltd.
Hemdeep Dulthummon (School of Management)
What: Elēkrŏn is focused on simplifying access to sustainable building designs in Mauritius.
Why: "I came to Yale to pivot into smart and sustainable urban development. I have a vision of transforming Mauritius into a net zero carbon economy by 2050 and making it a model for other nations with warm climates around the world. In order to learn more about the process of getting to net zero energy on a building scale first before expanding to a neighborhood scale, I started Elēkrŏn Sustainability. I am applying everything I am learning in business school to the startup. In addition, I've been learning about sustainable building design on my own.
I want residents of Mauritius to choose sustainable building design as the default. There is not a lot of information that is applicable to the local climate and construction industry in Mauritius. I will integrate all the information on passive design features applicable to the local climate, integrate smart and sustainable technologies, and develop designs that cost the same or less to construct than a regular building."
Stay connected: Visit elekron.org.
Green Retirement Initiative
Gabriel Malek (YC), Katrina White (YC)
What: This team will develop a toolkit to allow young professionals to advocate for environmentally-friendly 401(k) retirement plans — encouraging employers to embrace socially responsible asset management.
Why: "The Green Retirement Initiative (GRI) stemmed from our passion for sustainable finance and mutual interest in climate action. Between April 2017 and April 2019, we co-led the Dwight Hall Socially Responsible Investment Fund at Yale and realized that our peers cared about fossil fuel divestment but did not know how to fight for environmentally-conscious investing after graduating from college. Through conversations with representatives from The Forum for Sustainable and Responsible Investment and Principles for Responsible Investment, we also learned that 401(k) providers have struggled to account for the environmental impact of their funds. GRI attempts to solve both of these problems simultaneously, empowering young professionals to push for climate-conscious retirement plans and urging asset managers to offer employers a wider array of sustainable 401(k) options.
More specifically, we hope to provide recent college graduates with an online library of educational resources about the retirement industry and a comprehensive ranking of Fortune 500 companies based on 401(k) offerings. We want young people to see themselves as investors and take ownership over the retirement planning process, recognizing that their long-term investments can and should align with their values. By publicizing employee-driven campaigns for environmentally-friendly 401(k)'s, we hope to pressure financial services firms to improve the sustainability of their products."
Stay connected: Get in touch by emailing gabriel.malek@yale.edu and katrina.white@yale.edu.
Other teams are building physical products, from small tools to food and beverage offerings, for common problems.
Bezet
Reed Miller (School of Engineering & Applied Science)
What: Bezet ("Occupied" in Dutch) is the credit-card sized solution to public restroom stalls that just won't close and don't have a hook for your bag or jacket. Made of durable materials, it fits in your wallet, then folds down to hold your things and keep the door closed.
Why: "We have known each other for years and have a habit of sharing business ideas as part of casual conversation—Pooja is in tune with the latest trends, while Reed often comes up with quirky inventions.  Reed has been frustrated by poorly designed or maintained restroom stalls since he was a teen when the one in his high school locker room wouldn't close.  Chatting with friends, everyone can grumpily recall times when the locks on stall doors are misaligned enough as to be completely ineffective, or just plain broken or missing.  
The metal used in standard door hooks seems to be under-designed for the weight of objects users hang on them; it is easy to observe stalls where the base of the hook is there but the hook has snapped off.  It's also been joked about in the Reductress article '5 Must-Know Moves for Any Broken-Lock Bathroom Stall' and documented on Reddit in the 'Mildly Infuriating' thread.
Coincidentally, Reed received a gift of a credit card-sized multitool a while ago, which inspired him to think of ways to solve this problem with a portable gadget.  We were encouraged by showing initial prototypes to friends and family, who thought there could be a real market for this."
Stay connected: Follow @team_bezet on Instagram.
Mesa Foods Inc.
Tony Cisneros (School of Management and School of Forestry & Environmental Studies)
What: Mesa Foods Inc. produces vegetable-forward dehydrated meals for adventurers on the go.
Why: "I got the idea from my own experience hiking and backpacking, including thru-hiking the 485 mile Colorado Trail in 2018. Existing products provided the bare necessities, but didn't really focus on health and wellness. For many years I simply took this as fact. Then, last summer, I worked for the National Park Service at the Appalachian National Scenic Trail, and seeing emaciated hikers coming through our headquarters eating candy and chips propelled me to start Mesa Foods."
Stay connected: Head to mesa-foods.com.
Myst Energy
Gannon Connor (GSAS), Brandon Peterson (YC)
What: Myst Energy is developing an all-natural sparkling water energy drink to create a mental and metabolic boost through ingredients that are beneficial to the human body and have scientific research to support them.
Why: "During the 2019–2020 school year, Brandon Peterson began to look for an energy drink that worked effectively but that he didn't feel bad about putting into his body. He began to talk to his friends and found that many of them use energy drinks due to a need for an energy boost but feel bad about the ingredients and disliked the overly sweet taste of energy drinks currently available. Brandon identified the demand for a beverage that fulfills the same function as an energy drink but without the health concerns and saturated flavors of current drinks. Considering the rise in popularity of low-calorie, lightly flavored seltzer beverages, he came up with a lightly-flavored energy seltzer. He shared this idea with Gannon Connor, a chemistry graduate student, to see if the idea was technically feasible. Gannon developed a blend of caffeine, vitamins, and natural mental and metabolic boosters that provide a healthy, effective alternative to current energy blends. After developing home-made prototypes, Gannon and Brandon are convinced that their blend functions better than other energy drinks and can be used in a lightly-flavored, zero-calorie seltzer beverage. They have moved forward and are now doing customer discovery, with the overall goal of Myst Energy to bring to a smarter, healthier, more refreshing energy drink to everyday caffeine consumers."
Stay connected: Get in touch by emailing brandon.peterson@yale.edu and gannon.connor@yale.edu.

For some teams, their product is all about process — they're working to improve existing processes with new technologies and approaches.
CtrlTrial
Guannan Gong (Computational Biology and Bioinformatics, School of Medicine), Chris Keegan, Feimei Liu (Biomedical Engineering), Weiyu Wang (SOM)
What: CtrlTrial aims to automate and improve the process of patient identification for clinical trials by applying data science and AI technologies on both clinical trial protocols and patients' electronic medical records. During their time in the spring Accelerator, CtrlTrial won the Rothberg Catalyzer Prize at Startup Yale 2020.
Why: "Clinical trials are essential to developing new treatments such as new drugs for the disease. Despite spending billions of dollars on clinical trials every year, clinical trials can easily fail if not enough eligible patients were recruited for the trial. Each year, about 50% of trials were delayed due to patient recruitment, 70% of sites failed to meet the original patient enrollment target, and 80% of clinical studies fail to finish on time."
Stay connected: Visit ctrltrial.com.
Navi Health
Salina Hum (SOM), Nitya Kanuri (SOM), Agnieszka Matyja-Sanetra (SOM)
What: Navi will be a technology platform that helps college counseling centers more efficiently and effectively manage the mental health of the student population.
Why: "All of us are united around the common goal of increasing access to mental healthcare for college students. Aga has noticed that stigma is still a significant barrier to care in her home country of Poland. Salina's passionate about helping students achieve mental wellness now, so that they are even better prepared to make the transition into the workforce and handle the stressors that exist there. Nitya is passionate about making mental healthcare easy to ask for and helping students feel seen, cared for, and empowered on their journey to mental wellness.
The more we interview stakeholders — students, clinicians, administrators, parents, etc. — the more we realize that everyone is aligned around a common goal, yet inefficiencies in delivery (matching, communications, handoffs, follow-ups, etc.) get in the way. This bolsters our desire to improve the process of helping students navigate to a variety of existing resources, thereby reducing wait times for students, burden on administrators, and chance of burnout for clinicians."
Stay connected: Check out navi-health.com.
SciBuildr
Dana Joseph (YC), Newlyn Joseph (YC Alum)
What: This web application would streamline the interactions between professors and students seeking research positions: professors would be able to show their requirements for a position and students would be able to show their qualifications.
Why: "While 95% of undergraduate STEM majors at Yale pursue laboratory research, the process of finding a lab is incredibly time consuming and difficult. Students often send dozens of cold emails in hope of a response from a lab that suits their research interests. SciBuildr is a web application that aims to make the lab search easier. Professors can showcase their open research projects and other information related to their work. Students can create profiles that highlight their academic qualifications and what they are interested in. The platform matches students and professors to allow for easier communication and more productive research."
Stay connected: Email the team at SciBuildrYale@gmail.com.
Sweet
Bryce Bjork (YC), Ting Gao (YC)
What: This team is building an online marketplace and end-to-end booking platform that allows event planners to discover local venues, compare pricing, submit inquiries, chat with venue managers, and pay for the event — all in one place.
Why: "We picked this idea because we have been deeply involved in the event space, have witnessed firsthand the issues that event coordinators and venues face in hosting events, and want to make more events happen by alleviating the pain points of the venue booking process.
Sweet is a website and mobile app for booking private events at bars, clubs, hotels, and restaurants. Event coordinators discover local venues, browse spaces and menus, directly chat with venue managers, book a space, and pay for the venue. We are improving the event planning process by empowering venue managers and event coordinators to create and execute events faster and with fewer barriers."
Stay connected: Email the team at bryce.bjork@yale.edu and ting.gao@yale.edu.
For a number of teams, building or supporting vibrant, resilient communities is a core component of their work.
Barista
Adam Rothman (YC), Jordan Weitz (YC), Keon Azar (YC), Benjamin Kany (YC), Billy Schroeder (YC)
What: Barista is a subscription-based coffee service (mobile application) that enables members to save money on their routinely purchased beverages while also building relationships with local, sustainable cafes.
Why: "There are three forces that inspired the idea for Barista. Firstly, as college students, we spend a crazy amount of money on coffee. We spend $3–6 every time we purchase a cup of coffee — even those of us on a school meal plan — and oftentimes purchase several cups each day. We always complain about how much we are spending… only after we realize how much it really is.
Second, we noticed a trend: in most urban areas, national chains like Starbucks and Dunkin' dominate the market. However, after surveying roughly 400 Yale undergraduates, those two chains only combined to represent just 16% of the Yale undergraduate market. Instead, independently owned, mom and pop cafes are the main establishments that Yalies get their coffee from. This reflects a broader industry trend towards consumption of higher quality, fair trade coffee while supporting local businesses that implement sustainable practices.
Finally, the idea of subscription-based business models dominate the start-up landscape. From Netflix and Spotify covering our monthly entertainment with one recurring fee, and now with ClassPass providing a diverse set of available gym classes for a monthly fee, we have seen countless opportunities for an innovative model to capitalize on our repetitive food and beverage consumption behaviors.
These three factors have inspired us to create Barista: the first subscription service for your daily coffee needs from a network of local independent coffee shops."
Stay connected: Visit baristaoncampus.com.
Hadrut Educational Summer Camp
Knar Abrahamyan (GSAS)
What: This team is developing a free educational summer camp for the children in Hadrut in the Nagorno-Karabakh region.
Why: "Growing up, I used to attend a summer camp in my native village, Hadrut. The time spent at the camp is one of the most cherished memories from my childhood. However, due to lack of funding, the camp hasn't been happening for over 15 years. This means that children have little to do during summer break. To give them purpose and opportunities, in 2019, I founded Hadrut Educational Summer Camp (HESC) in partnership with the Hadrut Ministry's Department of Youth and Culture. The HESC allows children to gather during the long hot summer months and engage in meaningful activities together. Under the guidance of experienced teachers, they learn languages, take theater and dance classes, create arts and crafts projects, play sports, and cultivate environmental stewardship."
Stay connected: Find them on Facebook.
Outlaws Inc.
Jon Miller (SOM)
What: Outlaws Inc. prepares and places veterans into skilled trade jobs. 
Why: "When I was separating from military service I relied heavily on my support network to make sure I could achieve my goals. Not every service-member was as lucky and I hypothesized that this might be related to bad outcomes like suicide, unemployment, homelessness, and substance abuse. My solution is Outlaws Inc., a matchmaking service between skilled-trade employers and veterans. Our long term vision is to break ground on a maker-space where transitioning service-members can learn new skills and engage with local experts. Ultimately, veterans have a lot to offer but there needs to be trust between them and the employer."
Stay connected: Visit www.vetsmakeit.com and follow @vetsmakeit on Instagram.
The Climbing Initiative
Veronica Baker (Jackson Institute)
What: The Climbing Initiative invests in climbing communities worldwide through research, engagement, and partnerships.
Why: "I was inspired to create The Climbing Initiative on a flight from Cuba to New York. I had spent two weeks rock climbing in Viñales, and it struck me how the whole town really caters to climbers — the accommodations, the restaurants, the shops — people welcome climbers and see climbing tourism as a driver for their economy. It occurred to me that no one had really studied that phenomenon on a global scale. I started my graduate program at the Yale Jackson Institute inspired by the idea to conduct case studies on the growth of climbing around the world. Through this, I hoped to illustrate climbing's economic, social, and environmental impacts and understand how I could be part of helping communities benefit as much as possible from this natural resource.
In the process of building The Climbing Initiative, I've connected with communities all over the world, produced reports, and helped to start a conversation about how we can develop climbing areas and communities in a sustainable and equitable way. My hope is that through the work of The Climbing Initiative, rural communities that might not otherwise have many sources of income have the opportunity to thrive."
Stay connected: Check out climbinginitiative.org and follow @theclimbinginitiative on Instagram.