Invisible Hands Deliver: Talking Innovation and Grassroots Impact with Liam Elkind
Like many people, Liam Elkind (Yale College '21) found himself wondering how he could help out— and productively fill all the free time he suddenly had— as the COVID-19 pandemic spread earlier this spring. A conversation with a friend (and fellow Yalie) sparked an idea that has quickly turned into a network of over 12,000 volunteers: Invisible Hands Deliver.
Currently operating in New York City and parts of New Jersey and Long Island, Invisible Hands is a community-based group of volunteers who safely deliver necessities like groceries and medicine free of charge to those most vulnerable to COVID-19.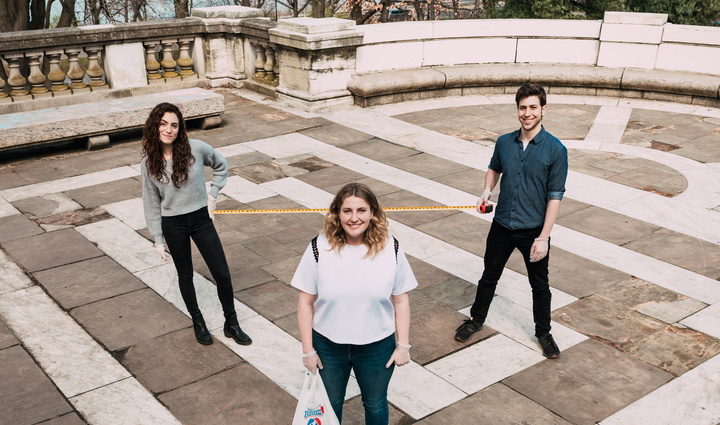 As Elkind and his co-founders have quickly scaled up this grassroots organization, they've encountered new needs and challenges, from building a website to the logistics of coordinating over 100 deliveries per day. To help support this growth, Invisible Hands recently received a grant through Tsai CITY's Student Catalyst Fund, which offers grants of up to $3,000 for Yale students to take their business, project, or intervention to the next level. We talked to Liam about Invisible Hands' rapid growth and impact, how he thinks about innovation, and more.
How did you go from the initial impulse to help your community to starting the Invisible Hands Deliver project? What did your early steps to formulate and build on your idea look like?
As this pandemic spread, and as hopelessness and isolation settled in, I was looking for something good to do with my time. I felt incredibly inspired by the medical and public transportation workers on the front lines every day, risking their lives to help out those most in need. I wondered what I could do with all the time I had on my frequently-washed hands. Then I saw a Facebook post by a friend of mine, Simone Policano (YC '16), asking if anyone knew of a volunteer system to connect young, healthy volunteers with elderly or immunocompromised people in their neighborhoods to bring them groceries and other necessities. People were commenting, "That sounds like something I would volunteer for, but I don't know of any service that does that exactly." I reached out that day, and asked, "What if we made a service like that?"
"I don't know what motivates someone to that level of selflessness, but I do know that there are millions of people out there like that doctor."
We built a website, passed around a couple of flyers, and within days we had amassed hundreds of volunteers. People started translating our flyers (we have them in sixteen languages now), telling their friends and parents and grandparents. Doctors, software engineers, lawyers — people with all kinds of expertise began reaching out and offering to help. We're now up to over 12,000 volunteers across New York and New Jersey, with plans to grow even larger as quickly as we're ready, in order to accommodate the ever-increasing demand.
As the project has developed, what's been the biggest surprise or takeaway?
I've been surprised by how excited people are to form new communities, particularly over digital platforms. In this era of social distancing, people are finding new and innovative ways to connect with one another. It's incredibly exciting to see volunteers host happy hours, teach virtual dance lessons, and form their own little neighborhood communities within the #HandsFam. Without community, Invisible Hands would be nothing — it's the human, neighbor-to- neighbor connection that enables volunteers and recipients to develop relationships and friendships, socially engaging while physically distancing. Even bigger than the dance lessons or the happy hours, though, is the renewal of my faith in humanity. There have been too many heroes to count, but one stranger, a doctor, reached out to me and said, "I work 19-hour shifts. I treat patients with COVID-19. But I always wear PPE, and I want to help in my free time. Can I volunteer?"
Now, we unfortunately had to say no due to safety concerns. But I was struck by that doctor, that unsung hero, who works for nineteen hours, his own life at risk, to save lives. And then, after that endless shift finally comes to a close, that doctor says, "Now what else can I do?" I don't know what motivates someone to that level of selflessness, but I do know that there are millions of people out there like that doctor. To me, that's been the most surprising, but ultimately what I believe will be the most abiding, lesson to take from all this: we are not alone. Even sitting in our own apartments, corresponding over email or phone or Zoom, we are still so connected. There are millions of people out there who want to be your friend, your partner, your ally. All you have to do is reach out.
Here at Tsai CITY, we see innovative thinking as approaching problem-solving with creativity, curiosity, and commitment — and that can be applied across diverse fields and settings. How do you see innovation playing a role in this project?
Innovation is critical to who we are. Large typical delivery services are incredibly overworked, often posting wait times of up to a week or even more. We're able to complete deliveries in under forty-eight hours. We're completing over 100 deliveries a day now, and we're only able to do that because we have a team of engineers and operations managers working nonstop to fill delivery requests and come up with brighter, better solutions than what we came up with the day before. Openness and transparency are key to who we are — because this is all so new, none of us have a set way of looking at how things "should" be done; instead, we bounce around ideas without ego or pride, and see what sticks.
How will support from Tsai CITY help make the project go further?
Tsai CITY's incredibly generous contribution to Invisible Hands' work will help us build our call center technology so that we can take in requests from people without internet access. Thanks to your support, we can make sure that we're remaining as accessible as possible to people in need during this crisis. Learn more about Invisible Hands Deliver and how to get involved here. Curious about Tsai CITY? Learn more about extracurricular programs, mentorship, funding, and other resources at city.yale.edu.