Yale Student Venture Bild Wins 7th Annual NYU-Yale Pitchoff
On Thursday, student venture teams from Tsai CITY's Summer Fellowship joined teams from the NYU Entrepreneurial Institute's Summer Launchpad for the 7th Annual NYU-Yale Summer Accelerator Pitchoff. The friendly competition unites the two schools' communities to give students the opportunity to pitch their ventures to a panel of expert judges and an enthusiastic audience.
For the third consecutive year, Yale took home the trophy, as Pradyut Paul (SOM '21) of Bild — a platform for small-medium businesses that integrates automation and AI into sourcing manufacturers and suppliers — was named the winner.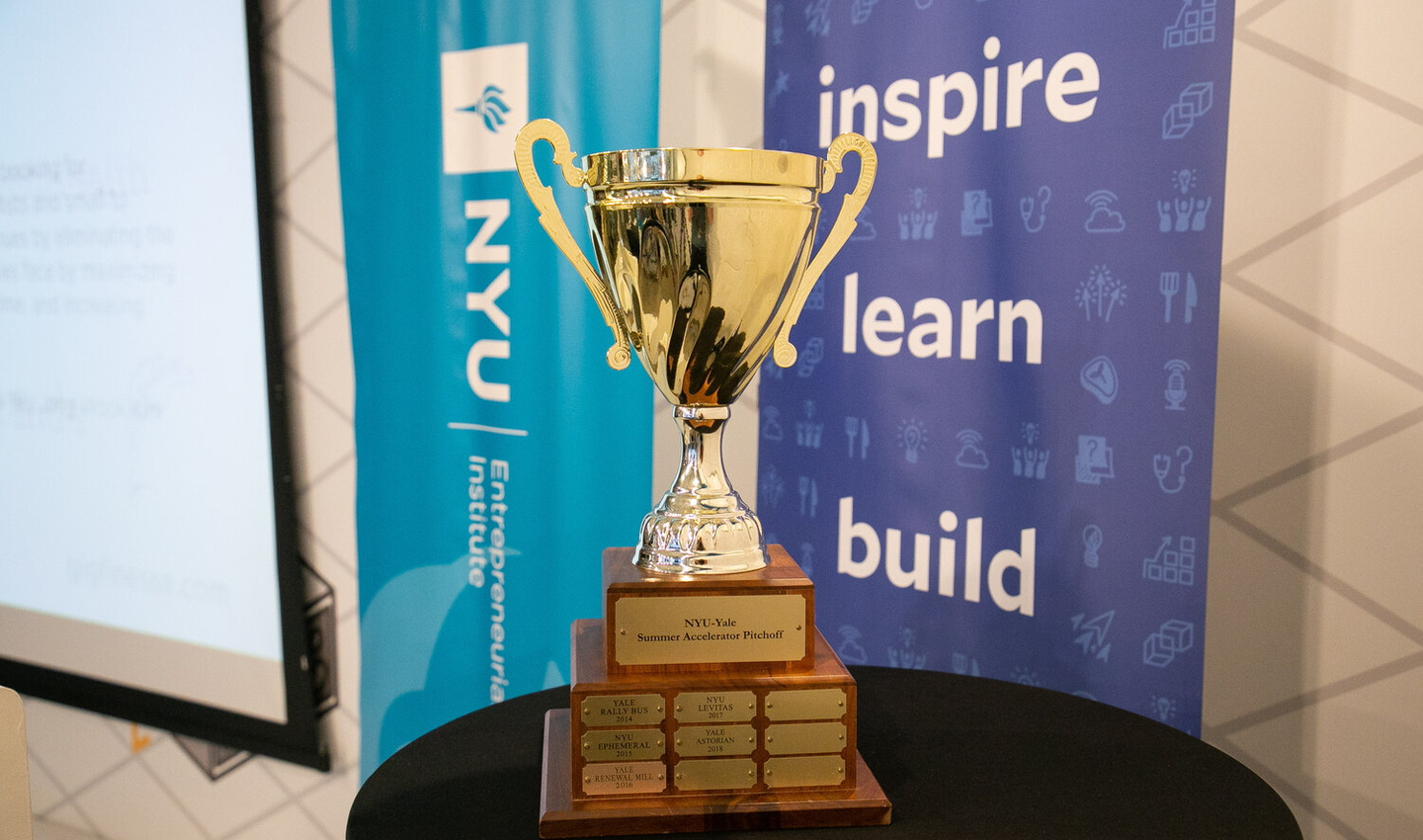 While the pitchoff usually takes place in Manhattan, this year's event was held entirely on Zoom. Despite the change, roughly 300 unique viewers tuned in for the event. "While we missed our annual sojourn to NYC to pitch in person, a distinct advantage of the virtual medium is that so many more people can join us to hear the pitches," says Clare Leinweber, Tsai CITY's executive director. "The Pitchoff was a huge success thanks to the united efforts of the staff and students at both universities. It was energizing this year finding a way to keep the tradition going and sustaining our camaraderie with our NYU friends."
Six featured teams — three from each university — pitched during the event. In addition to Bild, the Yale teams pitching on Thursday were:
Cambium Carbon: This reforestation hub concept aims to help cities meet their climate targets by investing in urban mill infrastructure, building nursery capacity, and channeling revenues to scale new planting. The Tsai CITY Summer Fellows building this venture are Ben Christensen (School of the Environment '20) and Marisa Repka (School of the Environment '20).
Juno: This reusable menstrual product can be worn for up to 12 hours. Juno has a built-in applicator to aid with insertion and a stem that allows the product to be drained. Juno is the first reusable menstrual product that includes a pain treatment mechanism. The Tsai CITY Summer Fellow building this venture is Phyllis Mugadza (Yale College '21).
Three teams represented NYU:
The Thinkers is an e-learning platform for high school students (13-17 years old) who are seeking to strengthen their executive functioning, future planning, and interpersonal skills through live classes, dynamic facilitation, and peer to peer interaction.
Veccnet offers ubiquitous, ultra-reliable, and low-latency connectivity, allowing drone service providers to reliably control their long-range delivery drones and benefit from fewer mission abortions and reduced costs compared to satellite links.
Sabai creates sustainable furniture without the compromise. Sabai is affordable, flat-packed, quick shipped, and beautiful to boot.
In addition to these featured teams, all participants in the Yale and NYU summer cohorts had a chance to share their ideas during a "lightning round" of 30-second pitches as the audience waited for the judges to make their decision. Teams pitched ventures focused on mental health, education, sustainability, and more before the judges returned to the virtual stage to announce Veccnet as the audience choice winner and Bild as the overall pitchoff winner.
For Bild, the win comes at a key moment. The team has recently launched their platform, and they are busy spreading the word to potential users, seeking out partnerships, and fundraising. Paul says that the team's motivation stems from the clear gaps they see in the current system for moving from ideation and prototyping to production. "We started Bild to introduce technology in the age-old manufacturing industry, where processes haven't changed for years," he explains. "We hope to change the way that small-medium businesses source and interact with manufacturers and suppliers."
Paul and his fellow student innovators at both Yale and NYU will be continuing to grow their ventures in the coming weeks, using tools like Zoom and Slack to remotely attend workshops, run project sprints, and chat with mentors and each other. For those watching, the Pitchoff served as a reminder of these students' ability to adapt and move their ideas forward. "I'm so impressed with all of the student pitches from both universities," reflects Leinweber. "These entrepreneurs are focused, committed, and ambitious. They have my fullest respect and admiration."
Get to know Tsai CITY's Summer Fellowship teams here, and join our mailing list to learn about upcoming opportunities to connect with the cohort.