The Yale Innovators' Prize is a $15,000 cash prize awarded to the for-profit or non-profit startup that has the potential to produce the greatest impact (financially, socially, or otherwise). The Yale Innovators' Prize is open to any project, campaign, solution, venture, or non-profit led by a current Yale student(s). In addition to the potential prize money, the competition provides opportunities for mentorship, feedback, supportive services and networking.
The Yale Innovators' Prize supports the broadest array of student innovation at Yale University. Open to any team led by a currently enrolled Yale student, the Yale Innovators Prize is agnostic to field of work or industry that each applicant's innovation may fall into.
This prize is in its pilot year and is possible due to the support of the Yale School of Management Program on Entrepreneurship and Tsai CITY. It is managed by Tsai CITY and intended to:
Stimulate applications of entrepreneurship and innovation at Yale University;
Generate ideas that are scalable, achievable, quantifiable, and financeable; and
Educate entrepreneurs about the process of converting an idea into a successful startup.
Timeline
February 1, 2021: Optional mentorship request form opens
February 21, 2021: Optional mentorship request form closes (mentors are assigned on a rolling basis)
February 22, 2021: Startup Yale application opens
March 21, 2021: Startup Yale application deadline
April 11, 2021 (approximately): Finalists selected
April 29, April 30, and May 1, 2021: Finalists participate in a live pitch event as part of Startup Yale.
Application Selection & Judging Criteria
Opportunity: The problem the venture/organization/idea seeks to address is clearly defined, and there is evidence that there is a significant target population who considers it important.
Viability: The team has developed a clear solution to the problem, has a realistic path for getting the solution to the end user, and can continue to deliver the solution in a way that is financially and operationally sustainable.
Innovation: The idea is truly innovative. It presents a new model, product or service that fills a unique gap and/or applies an existing model to a new context.
Team: The team has the knowledge, skills, passion, energy and ability to execute.
Catalytic-ness: The prize will be meaningful in driving the team/project forward in ways that may otherwise not have been possible as quickly or at all.
Impact: The innovation demonstrates significant social or financial impact.
Want to preview the application before diving in? Download a PDF version.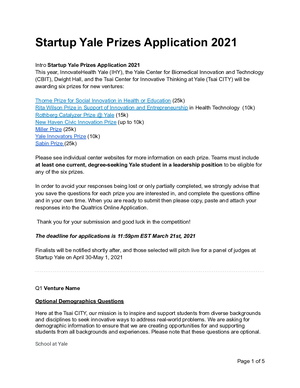 Questions about the Yale Innovators' Prize?
For questions about the Yale Innovators' Prize, contact Abby Winslow (abigail.winslow@yale.edu).
Startup Yale
The 2021 Yale Innovators' Prize Competition is part of Startup Yale, a collaboration between the Yale Center for Business and the Environment, InnovateHealth Yale, Dwight Hall, Yale School of Management Program on Entrepreneurship, and the Tsai Center for Innovative Thinking at Yale. On April 29-May 1, this event will virtually bring together Yale's entrepreneurs in three days packed with pitches, prizes, and world-changing ideas. Over $125k of prizes will be awarded to the finalists, including: