Pathways in Innovation
Join Tsai CITY as we explore innovation at Yale, through a series of interviews with student innovators.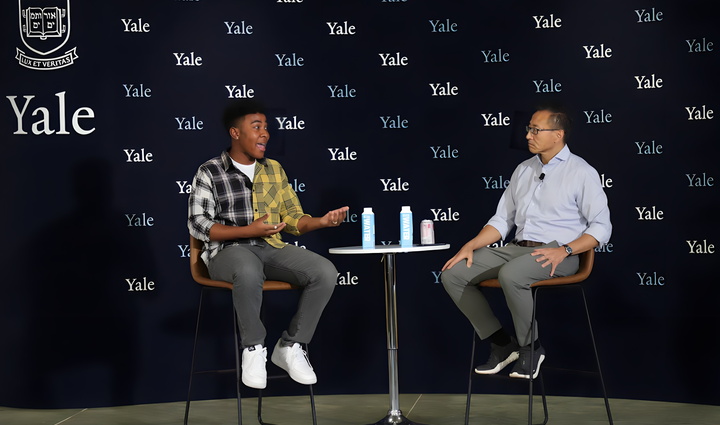 Industry leaders from the Yale community interview students and alums in this multi-part series which features successful innovators and ventures that have previously engaged with Tsai CITY. This series offers insight into how these innovators started their idea, and it reveals critical points in their respective journeys that pushed them forward. The Pathways in Innovation Spotlight series focuses on the five Tsai CITY Pathways. These pathways are unique and overlapping roadmaps for Yale students to navigate Tsai CITY offerings. The Entrepreneur, Intrapreneur, Explorer, Civic Innovator, and Creative make up all five pathways and are essential starting points for innovators engaging with Tsai CITY offerings (Read more about our Pathways here).
Past Spotlights
Creative Spotlight, January 1st, 2022 (Click here to watch the recording) | Joseph Tsai and Lolade Siyonbola, founder of NOIR FEST, explore the many pathways in innovation for creatives. 
Explorer Spotlight, October 25th, 2022 (Click here to watch the recording) | Kahlil Greene, Yale College alum and the Gen Z Historian, talks about his innovation exploration journey at Yale and since graduation. Kahlil Greene is a New York Times & Forbes Magazine recognized digital educator with over 600,000 followers and 20 million views across Tiktok, Instagram, and LinkedIn profiles. In addition, he was Yale College's first-ever Black student body president.
 Entrepreneur Spotlight, October 18th, 2022 (Click here to watch the recording)| Andrew Myers (' 18) is the CEO and Founder of RippleMatch; the recruitment automation platform changing how Gen Z finds work. By replacing job boards with matching and automation, RippleMatch eliminates the most time-intensive parts of the recruitment process for both employers and job seekers.
Creative Spotlight, October 11th, 2022 (Click here to watch the recording) | Sola Fadiran ('22 DRA) and Frances Pollock ('25 MUS) are the founders of Midnight Oil Collective. This venture studio incubates, accelerates, and invests in arts and entertainment ventures. Midnight Oil Collective combines venture capital tools with cooperative economics to create a wholly new business model that truly centers on creators.
Intrapreneur Spotlight, December 1st, 2021 (Click here to watch the recording)| Gabby Cazeau, Principal at Harlem Capital Partners, discusses the role of innovation in intrapreneurship. 
Entrepreneur Spotlight, October 26th, 2021 (Click here to watch the recording)| Founders of Snackpass, Jaime Marshall and Kevin Tan, talk about their entrepreneurial journey. Snackpass is social e-commerce for restaurants.
Civic Innovator Spotlight, October 7th. 2021 (Click here to watch the recording)| Ben Christensen, Co-founder and CEO (YSE'20), and Marisa Repka, Co-founder, and CFO (YSE'20), discuss civic innovation through the lens of their venture, Cambium Carbon, a circular economy startup reforesting America by enabling local wood economies.
*The Pathways in Innovation programming has ended. Be sure to subscribe to our newsletter for more updates about this and other programs/events happening at Tsai CITY.