Tsai CITY Introduces New Pathways Initiative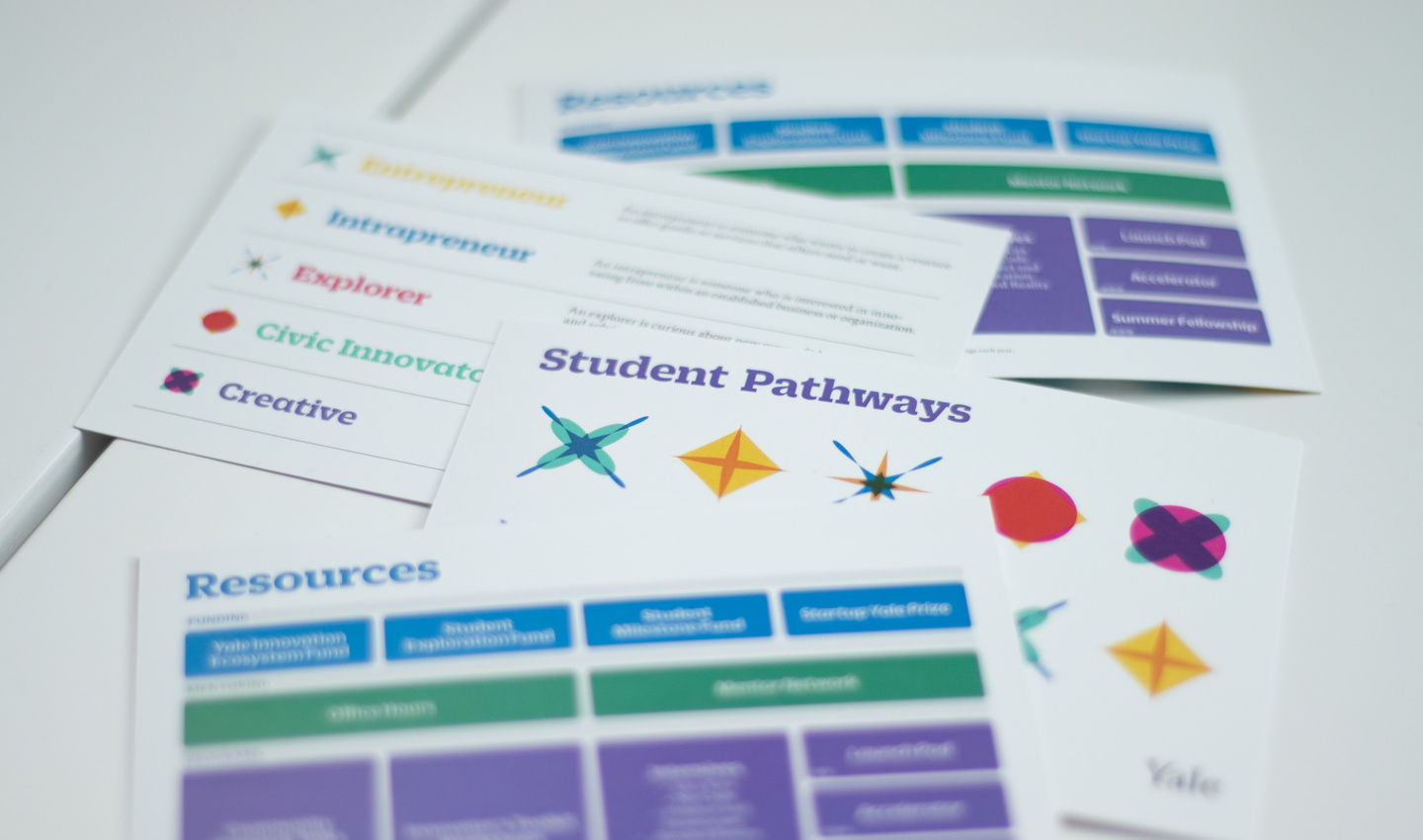 When walking through the Tsai CITY building, you may notice various flyers and postcards with information about Tsai CITY Pathways. Inspired by the work of Venturewell's Advancing Equity, which highlighted the importance of validating multiple pathways to success to advance equity and accessibility in innovation and entrepreneurship, Tsai CITY began developing the pathways of its own. This report investigated the ways in which organizations could create "more equitable and inclusive pathways to innovation and entrepreneurship" through the implementation of innovative "organizational culture and practices" and "programmatic activities." 
"We loved the concept of creating a tool to help innovators navigate complex ecosystems, a pain point we'd been trying to tackle for student innovators at Yale, and decided as a team to create clear and accessible pathways for innovators to engage with Tsai CITY." –Kassie Tucker (Managing Director)
Tsai CITY used this information from the Advancing Equity report to begin its own journey towards developing a new initiative dedicated to creating space for a diverse range of innovative thinkers. This journey culminated in the creation of Tsai CITY Pathways, a set of offerings divided into five core tracks: Civic Innovator, Entrepreneur, Explorer, Intrapreneur, and Creative. Each of these tracks represent a "pathway" which exists to help guide individuals towards their unique, potential areas of interest. Below, we're spotlighting various Tsai CITY community members and the ways in which they're embracing the values of each pathway.
CIVIC INNOVATOR
A Tsai CITY civic innovator is someone who sees opportunities for innovation to improve their lives, deepen their knowledge, and amplify the voices of community members at all levels of civil society from local to global. 
As one of the founders of Cambium Carbon, Ben Christensen (YSE '20) has focused the company's early development on urban wood utilization as a revenue engine for new tree planting. The company is an early stage social enterprise, building a platform to scale circular economies. Through advocacy for environmental sustainability, Cambium Carbon's founders use innovative thinking to improve the lives of communities. Cambium Carbon seeks to have a business philosophy that does, in the words of Christensen, "unequivocable good." 
Emphasizing their dedication to sustainable business practice, Cambium Carbon distinguishes itself by reinvesting 15% percent of all profits back into the planting of new trees and wood maintenance in the cities the company operates in – a core mission of Cambium Carbon. Throughout its startup journey, Cambium Carbon participated in Tsai CITY's Accelerator, Summer Fellowship, Startup Yale, and has received approximately $17,000 in Tsai CITY grant funding.
ENTREPRENEUR
An entrepreneur is someone who wants to create a venture to offer goods or services that others need or want. A venture can be a for-profit business, a nonprofit organization, or a special project or initiative that could grow into one of these (or a hybrid of the two).
Phyllis Mugadza brought Sprxng to life when collaborating with a diverse group of people who initially never believed they had a role to play in the design of a menstrual product.
"Being given this opportunity through Tsai CITY programming to dive into a diverse range of topics and to learn new and innovative ways of connecting the dots in order to solve problems speaks to what being an entrepreneur at Tsai CITY means to me. It speaks to the power of collaboration." —Phyllis Mugadza (YSPH '22)
Sprxng has worked with medical professionals, origami artists, who tackle the design challenge using a different approach, viewing it with fresh eyes, asking new questions, and forming unique patterns from the information they are given. With the funding and support of Tsai CITY Sprxng has become a product that will impact the lives of menstruators globally.
INTRAPRENEUR
An intrapreneur is someone who is interested in innovating from within an established business or organization. Intrapreneurs apply their innovative thinking skills through immersing themselves in building or improving products, services, processes, technologies or infrastructures to advance organizational goals.
Yale School of Management student, Melissa Lu ('22), was a Launch Pad cohort participant. Launch Pad offered support for Lu's venture ACCforAll, an international B2C fine jewelry & accessories membership e-commerce platform. A highlight for Lu has been her experience with Tsai CITY's strong mentorship and VPS team, with leadership from SOM students. She believes that innovation comes from discussion, especially among experienced talents.
"In my field, it's all about collaboration [...] A group of individuals has more power and impact than a single person. Working in teams enables employees to share knowledge, [and] work more efficiently and effectively," Melissa shared.
EXPLORER
An explorer is curious about new ways of identifying and solving real-world problems. An explorer may not currently be developing an idea, but is still very eager to engage in an innovation and entrepreneurship ecosystem with other students. This pathway is a great place to start for anyone unsure of how to engage with Tsai CITY and broadly interested in entrepreneurship and innovation.
Ethen Lund (GSAS '25) first got involved with Tsai CITY after attending  an orientation event. Once he learned about what Tsai CITY had to offer, he attended various programming events, including a meet-up of food & beverage innovators and the Planetary Solutions Generator intensive. He eventually joined the Student Advisory Board  wanting to help the center reach even more creative, innovative students.
Lund explained that, "Tsai CITY supports me by meeting me where I am - from when I first came in with no entrepreneurship experience to where I am now." He is finding new ways to innovate in his lab research and has received a $3,000 grant to expand his and his brother's non-profit for science education called Service Beakers. 
"I've learned so much from the staff and my peers at Tsai CITY, from how to craft company values to how to navigate the start-up and venture capital landscape to just generally how to surround yourself with the people who help you grow and learn." 
CREATIVE
A creative is an artist and practitioner who stretches the boundaries of their creative discipline in a new and innovative way. Often, a creative seeks to combine aspects of entrepreneurship with their creative work to be able to identify a pathway to support their artistry sustainably over time. They innovate within their artistic fields and look for ways to bring their art to those who value it most.
Midnight Oil Collective is an investment and production company that centers artists as exclusive shareholders. Each of their artists buys into the collective, through a project structured as an LLC and benefits from all of the projects once they create a profit.
The founder of Midnight Oil Collective, Frances Pollock, explained how Tsai CITY has helped the company in every way possible. Tsai CITY advisors connected the team with point people in various industries pertinent to its mission, including NBC, and the Yale Innovation and Entrepreneurship Law clinic from which they gathered a small team of law students.
"I don't know of anyone else in the performing arts who is afforded this incredible privilege," Pollock admits.
Thanks to Tsai CITY, they now have a broad network of people who are always there to offer support as the company moves forward.
PATHWAYS IN ACTION
When speaking to the missions of these pathways, Tucker explained how Tsai CITY began developing them by first looking at the data and trends of student engagement with the center over the past few years. Based on this data, Tsai CITY developed personas, which were  tested with the Tsai CITY Student Advisory Board, and iterated based on their feedback.  Once the personas were set, it was time to focus on developing clear pathways, based on their respective needs, at Tsai CITY. The initiative zero'd in on current and aspirational offerings for students who identified with each pathway. Over the summer, the draft pathways were tested with students who hadn't previously engaged with Tsai CITY to ensure that the pathways were clear and useful tools to all.  
"We want to bring all the diverse students from different disciplines and backgrounds and come here and sort of help them to start thinking about how to create solutions to solve problems. I think at the end of the day, innovation is about problem solving." —Joseph Tsai (BA '86, JD '90) 
The quote above aligns with Tsai CITY's mission to facilitate interdisciplinary problem solving, across the five pathways explored above. Furthermore, Tsai CITY has developed some exciting new programming to highlight these Pathways, such as the Pathways in Innovation: Innovator Spotlight Series, a conversation that "delves into the journeys along innovation pathways of recent Yale alumni and showcases the ways in which they are thinking innovatively and solving problems in the world." 
THE FUTURE OF PATHWAYS
Innovation comes in many shapes and sizes. As is reflected by the student testimonies above, Tsai CITY strives to offer mentorship and support to any who seek it. Additionally, we recognize that finding your path isn't always easy. This is why the Tsai CITY Pathways are here to help streamline the innovator's journey by making resources, programming, and mentorship opportunities accessible to any student who is interested.
"Every student's journey is unique," shares Kassie, "and my hope is that the students see our pathways as an easy tool they can use to help navigate the plethora of opportunities available and engage in the ones most meaningful to them. What excited me most about our pathways is the potential participation from students who would not otherwise come to Tsai CITY!"
All in all, Tsai CITY seeks to support a diverse array of innovative ventures. Whether you're a Civic Innovator, Entrepreneur, Intrapreneur, Creative, or Explorer, Tsai CITY offers valuable resources for your innovative journey. If you'd like to learn more about opportunities within the pathway you identify, Tsai CITY programming is now cross-listed with pathways that are unique to each event and program. 
Check out the next installment of the Pathways in Innovation series here.  
(Story written by Luna Garcia, Tsai CITY's Storytelling Associate)