How Tsai CITY Venture Advisors Support Student Founders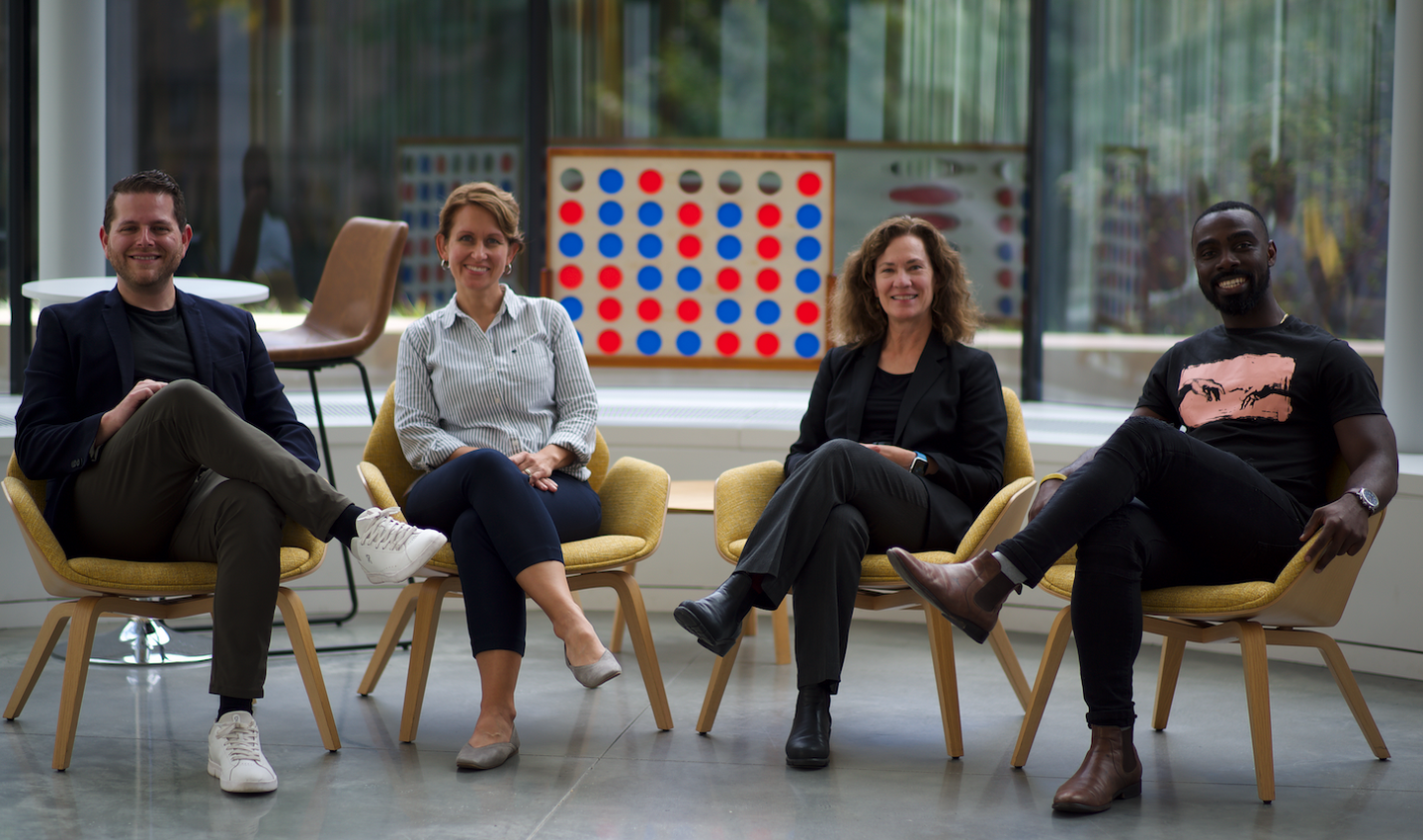 When students enter the Tsai CITY Venture Development Programs, they're looking for guidance on how to move their ventures forward. These student founders have a range of backgrounds and interests, and no two ventures are alike. On the surface, supporting them all may look like an impossible challenge, but Tsai CITY is all about finding innovative solutions.
Enter the venture advisors, Tsai CITY's team of entrepreneurs and investors who are experts in the process of early-stage venture creation. One of them, Daniel Acheampong, is cofounder and general partner at Visible Hands, a venture capital firm and accelerator that supports underrepresented founders. He said, "We know these are really smart, talented students. But from the business side, we want to share with them some of the things that we've seen."
Because he comes from the venture capital world, Daniel has valuable insights for the venture teams about different sources of funding. He said, "My company has invested in over 90 companies, and personally, I've invested in 100+ companies. So there's a framework that I've seen in how successful companies are built and some of the pitfalls to avoid when you're starting a company. And I think that's a really helpful value add to bring in the classroom."
Seth Goldin, a first-year student studying computer science and linguistics, is cofounder of Friday, an edtech company that uses large language models to provide academic support to college students. When he was considering raising funds for Friday, the venture advisors helped him understand his options. Seth said, "I realized I could earn funding without going through traditional VC. You can also apply for grants, which I have since done successfully."
Each Friday, the three advisors spend time on campus to work with the accelerator participants as a group, in small cohorts, and one-on-one. The group sessions cover broadly relevant topics, such as the funding landscape, team building, and operations. Justin Silver, cofounder and COO at AAVRANI, is another of Tsai CITY's venture advisors. He emphasized that the interactive environment is nothing like an entrepreneurship class, saying, "This is real world, hyper-tactical. 'How can you take your company from point A to point B as part of this accelerator?'"
The cohort and individual sessions are even more hands-on to address the founders' specific needs. The advisors work with each student to set and attain relevant milestones and hold them accountable for making progress on their venture ideas.
Justin's background is as an entrepreneur, but he also has experience in the investment, nonprofit, and art worlds. He has found that as students are getting started, they're often overwhelmed by all of the information that's out there. "When I sit with the students, I have the tactical answer. We can get that thing done in a 45-minute session. We can get that conversation from an idea to a reality," he said, "We get into the nitty-gritty. Sometimes we're sharing screens, filing trademark applications or LLCs."
Lacie Thorne, an executive MBA student focused on sustainability, founded Phigitals, a fashion startup that uses blockchain technology to incentivize brands to create quality clothing. Working with Justin helped her refine the concept and kept her accountable for moving the project forward. She said, "Being able to come to my venture advisor meeting and experience so much constructive advice, so much positivity, so much support, really pushed forward what would have otherwise been a relatively solitary journey into making this vision a reality."
Levi Shaw-Faber earned his Master's of Architecture in 2022. During the pandemic, he took a year off from Yale and cofounded Wiggle Room, a company that sells curvy, direct-to-consumer, flat-packed furniture. Levi and his cofounder credit Justin for helping them think bigger. He said, "Before Tsai CITY we were thinking about Wiggle Room as an art project. Justin convinced us that, with our high sales, we should be thinking about it more as a startup." From the outside, the company looks like a small furniture designer, but internally, they're planning an investment raise and using metrics to stay competitive. "That was Justin's contribution—how to operate the business like a high growth startup."
Tsai CITY emphasizes experiential learning and encourages students to take risks, whether or not that leads to a successful venture. Margaret Cartiera, the innovation director at Yale's Center for Biomedical Innovation and Technology, also serves as a venture advisor. She appreciates that Tsai CITY is a safe environment for students to apply everything they've learned from their academic courses. She and the other venture advisors urge students to start doing rather than just researching. She said, "The innovation process is really gathering feedback, iterating, going back, gathering more feedback, and iterating."
Along the way, the students will experience small failures, and that's part of the process. Margaret noted, "Failure is not a bad thing, even though that word itself has a negative connotation to it sometimes. The context of experiential learning gives them real-world skills that are going to be applicable no matter what kind of job they get."
Nat Irwin graduated from Yale in 2022 with a BA in environmental studies. While at Yale, they cofounded AgriCORE, a company that built tools to support in-field soil quality testing. Nat worked with Margaret, and said, "She focused a lot of her advising with me on market research and making sure that I understood the need for the products, the problem I was solving, and the key players in the market." Following that advice, Nat got to know others doing similar work. That intentional networking, and the experience they gained with AgriCORE, led to job opportunities in their field of interest. After graduation, they took a full-time role as tech ecosystem facilitator at OpenTEAM, a project that uses open-source and interoperable technology to ease the transition toward climate-smart agriculture. Nat said, "My time at Tsai CITY, and working on my own venture, showed me that I'm interested in product and project management, and in understanding user needs around products. It also taught me that I still have a lot to learn."
Sade Owoye, associate director of student programming at Tsai CITY, sums up the value of the venture advisors to student entrepreneurs, "By bringing their industry and innovation expertise to student founders, Tsai CITY's venture advisors catalyze student learning and action. The advisors are a critical resource for student founders in mapping and attaining their goals."