Yale Students Are Using the Arts & Humanities in Innovative Ways to Solve Real-World Problems
Tsai CITY creates opportunities for students to exchange ideas across disciplines. Learn how Yale students continue to harness the arts and humanities to make an impact in various fields and explore inspiring examples of creative ventures that have emerged from the Tsai CITY community.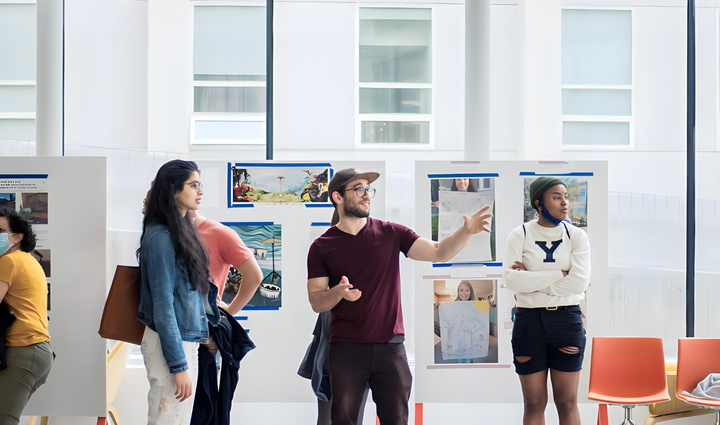 At the Tsai Center for Innovative Thinking at Yale (Tsai CITY), we design our programs to spark cross-disciplinary conversations and collaborations because we recognize how new perspectives fuel curiosity and exploration. Just as student entrepreneurs find value in creative approaches to problem-solving, students in the arts and humanities often benefit from viewing their work through an entrepreneurial lens.
For example, an artist who looks at their practice from the perspective of a startup founder may develop a better understanding of how they can support themselves through their creative work.
Encouraging students to think in innovative, interdisciplinary ways not only supports their individual efforts but also allows them to make a broader impact.
This year, for the first time, the Yale Innovation Summit (Wednesday, May 31 - Thursday, June 1) will have an arts track. The 2023 theme, Expanding Impact, reflects the summit's own growth as well as the momentum of the creative and entrepreneurial ecosystem in and around Yale.
Yale University has an extraordinary reputation in the arts and humanities, encompassing everything from its stellar liberal arts education for undergraduates to the acclaimed graduates of the Schools of Drama, Music, Art, and Architecture. The university's artistic presence extends into the surrounding community of New Haven, Connecticut, which the New York Times recently described as "A home to tinkerers and rebels, and a treasure trove of contemporary art and architecture."
Last year, T: The New York Times Style Magazine published a piece featuring several artists of color who, after graduating from Yale, chose to stay in or return to New Haven and build their art practices here. Among them is Titus Kaphar (ART '06), who founded NXTHVN, a fellowship program and arts center, independent of Yale, in the historically Black neighborhood of Dixwell.
Tsai CITY builds on students' artistic strengths with our creative pathway, which supports those looking to stretch the boundaries of their creative disciplines to sustain their arts practices over time. This includes everything from arts activism to fashion design to app development. We hold programs to guide and support students on this pathway, such as the Beyond the Studio series of talks, workshops, and discussions; the Recasting the Artist as Entrepreneur series of intensive workshops, and MOC(k) Ups: A Showcase of Ventures in Yale's Creative Economy. The last two of these would not have been possible without the incredible dedication and partnership of Yale's Midnight Oil Collective. Students also have opportunities to lead skill-building workshops for their peers and the community, through events like the Innovator's Toolkit workshop series.
With increased attention on supporting creative entrepreneurs, I want to share a few examples of the exciting work that has happened in Tsai CITY's creative community. Our students are using the arts and humanities to reach new audiences, merge design and sustainability, build a more diverse and inclusive world, and more.
The Startup Yale event took place recently (Thursday, March 30 - Friday, March 31), where student innovators, including some of the ones listed above, pitched their ideas live and competed for over $175,000 in funding. It was a fantastic experience. You can watch a replay of the event on our Youtube channel.