The Founder's Dilemma: Finding the Perfect Co-Founder
Starting a company is hardly an easy endeavor. From raising money to developing a product, there are a number of things that need to happen to get a venture off the ground. So how do entrepreneurs best optimize their skills and resources in order to create success?  
Co-Founding for Success
For many entrepreneurs, the answer lies in finding a co-founder. Despite the media attention paid to solo founders like Jeff Bezos, most successful companies today come from multiple founders. As of 2018, around 80 percent of contemporary billion-dollar companies in the United States were started by two or more founders, including companies with Yale co-founders like Pinterest and 23andMe. When it comes to company leadership, co-founding offers entrepreneurs the opportunity to blend expertise and work together on a shared investment that might otherwise prove lonely. 
Zoe Lloyd Geller (SOM '17, YSE '17), co-founder of Fire Ox Foods and member of the Tsai CITY mentor network, has lived on both sides of the equation. Initially a co-founder of Zoni Foods, Geller went solo in 2018 when her partner decided to depart the business after graduating from Yale. The two left on amicable terms and Geller continued to carry the company forward on her own. She quickly discovered that solo founding did not come naturally to her. "Entrepreneurship is all about building momentum," Geller shared. "For me, I was creating that momentum all by myself—getting the stores, getting the customers, getting the advisors, getting the money. I burned out multiple times and realized that it wasn't sustainable on my own. Maybe for some people it is, but for me the benefits of co-founding are the community, the momentum, and the energy from the people around me."
Finding the Right Match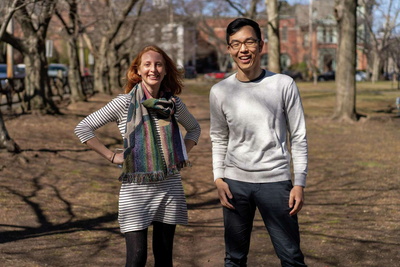 Like many successful entrepreneurs before her, Geller decided to find another founder to help balance the responsibilities of leadership. The Yale School of Management's entrepreneurship clubs and the Yale alumni network proved valuable resources for her search, as did the mentorship program at Tsai CITY in shaping Geller's outlook. "At the time, I had asked an advisor how to find a co-founder, because it's so hard and I felt it was really needed," she remembered. "He just said to put it out there in the world: let it be known that you're looking for someone and who knows what will happen."
In the end, Geller found her current co-founder, Jason Yang (YC '09), "serendipitously." Her original company, Zoni Foods, was featured in the Yale Alumni magazine, and Yang reached out about joining efforts with his then company, Plentiful, which also focused on creating delicious plant-based foods. After a successful trial period working together, the two decided to formally merge ventures into the current business, Fire Ox Foods.
But Geller and Yang's partnership was also a result of shared goals and self-reflection. "We were both pretty self-aware that we each had our own kinds of skills," said Geller.
"It's nice to have complementary skills on a team so you can be a better teammate or a better manager. The resources that you have are time and money so you want to use those really well."
During the trial period, Yang displayed a number of traits that Geller was looking for in a partner, such as passion, adaptability, thoughtfulness, proactiveness, and decisiveness. For others like Clara Guo (MED '24, SOM '24) and Aleksandra Galaszewicz (SOM '24), positive co-founder traits include respect, trust, and aligned skills. 
Guo and Galaszewicz co-founded lucid.care, a digital health venture using AI-enabled predictions to personalize mental health care, after a mutual friend recommended they meet based on their shared passion for improving mental health care. The pair come from different fields—Guo, a former science consultant, and Galaszewicz, a former finance consultant—yet it's precisely this difference in perspectives that allows their co-founding relationship to thrive. "Although how we think and make decisions are, in many aspects, at opposite ends, there's so much that we also share," Galaszewicz pointed out.
"There's a lot of theory about what perfect founders should look like. Ultimately, it's all about making sure the relationship works, and you'll find a way to cover all capabilities."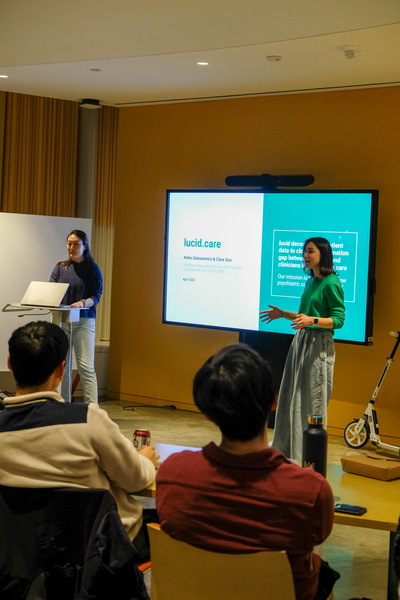 Making It Last
With bad partnerships ranking among the top reasons why startups fail, it can be difficult to make co-founding relationships last. The three entrepreneurs at lucid.care and Fire Ox Foods share these final insights about growing successful co-founding relationships:
Clara Guo: "For us, because we are actually fundamentally such different people in terms of our interests and our backgrounds, the division of labor was actually pretty easy. But it's always about respect. Even in product, Aleks will listen to me, and even in clinical, I'll listen to her. It's about taking a step back and realizing it's not personal when we have disagreements and thinking about what's best for the company from there."
Aleksandra Galaszewicz: "For me, personally, it's really making sure that you want to learn from this person and that you're happy to accept their input and have them as your mentor and your guide. There are going to be really challenging times and you need to be open to their feedback because you have to make sure that you want the best for each other. I have full trust in Clara that she wants my full growth as I do for her."
Zoe Lloyd Geller: "Be honest with yourself and with them. If you're not honest, it's going to break down. Check in regularly on where their head is at, because people change. It's an emotional roller coaster so you've got to get personal. You've got to get to know them and build the relationship or else it's just not going to work."